Troubled Past: Family Of Suspected Fort Lauderdale Shooter Say He 'Lost His Mind' After Iraq Tour
They revealed he strangled his ex-girlfriend and was hospitalized with psychiatric problems.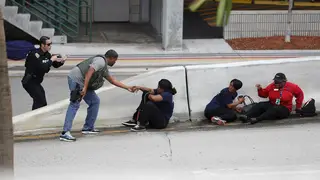 As time passes we're learning more and more about the suspected Fort Lauderdale shooter.
Previously we reported that Esteban Santiago was formerly stationed in Alaska as a member of the National Guard and had a history of questionable behavior leading up to yesterday (January 6). Now we're learning more from his family.
The Daily Beast reports that relatives of Santiago say the 26-year-old New Jersey native "lost his mind" after doing a tour of duty in Iraq. They also reveal that he had been charged with domestic violence against his ex-girlfriend in January 2016.
Santiago allegedly verbally abused the unnamed woman in their Anchorage apartment while she was locked in their bathroom. Subsequently, he broke down the door, hit her in the head, and strangled her. Santiago would be arrested days later after fleeing the scene, however he was released from custody on the condition he stay away from the alleged victim. He would later violate that condition a month later.
In November, Esteban Santiago also raised flags when he walked into an FBI office in Anchorage and claimed the government was controlling his mind and forcing him to watch ISIS videos. This caused those at the office to send Santiago to a mental hospital after an interview with police.
Santiago's aunt Maria Ruiz told NorthJersey.com that once her nephew returned home from Iraq he began acting strangely. Then, after his child was born, he seemed to be happier. Ruiz says a month ago, Santiago was hospitalized for two weeks, however she didn't reveal why.
"Like a month ago, it was like he lost his mind. He said he saw things," she said. His uncle Hernan Rivera confirmed those sentiments and says the Iraq tour changed everything. Santiago has never been diagnosed with PTSD, according to reports.