New Feud Alert! Tamar Is Now Clapping Back at Tiny
The drama continues.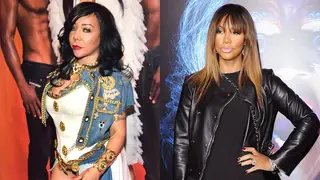 Adrienne Bailon, Tamera Mowry, Monica Brown, Toya Wright — at this point, Tamar Braxton's list of enemies is longer than the one of her friends.
Now, we can add Tiny Harris.
According to Tamar's Instagram activity, it looks like she's officially done with her former pal — simply because she congratulated Monica on her gig co-hosting The Real. Man, it really doesn't take much to get on Tamar's bad side.
It all started when Tiny dared to congratulate Monica on her stint as co-host of The Real — the show Tamar was fired from earlier this year. "Ok @monicabrown showing out this wk... make sure u tune in to catch her co hosting," Tiny wrote in a supportive Instagram post.
Unsurprisingly, Tamar didn't take too kindly to that and immediately unfollowed her friend. But this isn't just your everyday feud. Tamar and her husband, Vince Herbert, are actually godparents to Tiny's daughter, Heiress. The Family Hustle star took to Instagram today to remind Tamar of that fact:
Get the latest on Tamar's feud with Toya from Wendy Williams, above.