Damson Idris Says He Suffered Nightmares After Looking To The Devil For Inspiration For His 'Snowfall' Character
The British actor played drug kingpin Franklin Saint in the series.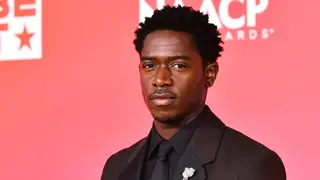 Damson Idris is doing some reflecting on his character Franklin Saint in the acclaimed series Snowfall and revealed that he looked to the devil for inspiration for the role, and it gave him nightmares as a result.
During a recent actors roundtable for The Hollywood Reporter, the British actor, who plays a drug kingpin responsible for distributing crack in South Central, Los Angeles, says he was figuratively in some of the dark spaces his character was in during the sixth and final season of the FX crime drama.
"In this last season I was hitting a block, I was like, 'Oh I'm not doing it right,'" he noted during the 9:50 point of the discussion. "I went in the corner and then I was looking at the wall, and I was like, 'Come on Devil, come on Devil. Come to me, come to me. I had to do something, like, crazy. [I] had nightmares for a month. I had nightmares every day. I just felt that energy, and I had to pray and do all of this stuff to get rid of it. You know, you call your mum up, and you're like, 'Bring me back to life.' That stuff is real, that stuff is really is real."
The conversation came up after Evan Peters discussed taking on the role of Jeffrey Dahmer in the Netflix series Dahmer – Monster: The Jeffrey Dahmer Story. Peters admitted that playing such an evil character was difficult for him.
Watch the whole discussion below.