Vice President Kamala Harris Tests Negative For COVID After Treatment
She will be returning to the White House.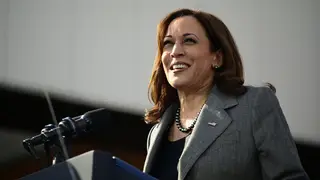 Vice President Kamala Harris has tested negative for COVID-19 and is cleared to return to the White House.
According to the Associated Press, after testing positive last month, Harris received Paxlovid, which is an antiviral treatment. Yesterday (May 2), she tested negative on a rapid antigen test.
While she will return to the White House, she will wear a mask around others, according to her press secretary Kirsten Allen.
In late April, Harris tested positive on both rapid and PCR coronavirus tests but exhibited no symptoms. She was first vaccinated against the virus in December 2020 with the Moderna vaccine and received a second dose the following month.  She received her booster in November 2021 and a second booster earlier in April 2022.
Her husband, Second Gentleman Doug Emhoff, tested positive for COVID-19 in March after experiencing mild symptoms. He is also vaccinated and boosted but it's not known if he has also tested negative for the virus.