Raven-Symoné Walks Off 'Raven's Home' Set Over Florida 'Don't Say Gay' Bill
Bill HB 1557 was passed in the state Senate earlier this month.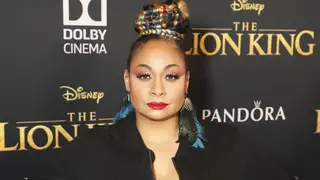 Raven-Symoné is protesting Florida's "Don't Say Gay" bill.
On Tuesday (Mar. 22), Symoné and her costars walked off the set of the Disney Channel show Raven's Home in response to a recent bill (HB 1557) that was passed prohibiting discussion about sexual orientation and gender identity in the primary school classroom, according to PEOPLE.
The longtime actress posted a video on Instagram showing that she and the Raven's Home cast and executive producers had staged a walkout.
"We are walking out today in support of this ridiculous bill ... we don't like it! We're walking out. It's stupid. We love everyone. Support, support, support," she said.
In the caption of the video, she wrote: "In todays world it is imperative that we take stands, show support, and move forward not backwards," adding "Education that reflects the truth and the world we live in is something we must fight for."
In an official statement from Disney Channel obtained by PEOPLE the company shared that they "have both our respect and our support," as a response to a walkout.
The company's streaming service, Disney+, also issued a statement, saying in part that "We strongly denounce all legislation that infringes on the basic human rights of people in the LGBTQIA+ community — especially legislation that targets and harms young people and their families."
According to the Associated Press, bill HB 1557 was passed in the state Senate earlier this month. Florida Gov. Ron DeSantis confirmed that he would sign the bill, but it is unclear on the official date.