Here's Why Laverne Cox Turned Down a Once-In-A-Lifetime Offer From Beyoncé
This would have been epic.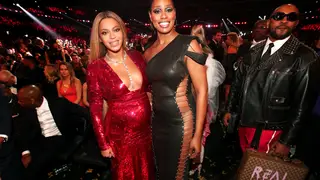 Already in 2017, things have come full circle for Laverne Cox, who was finally able to meet her idol, Beyoncé, at this year's Grammy Awards.
Especially considering Cox's unapologetic stanning for Bey over the years, the meeting was definitely long overdue. However, according to the actress, she had a previous opportunity not only to meet Bey in person for the first time, but also to work with her, a once-in-a-lifetime offer that Cox had no choice but to let pass by.
According to Cox, she was offered a chance to star in Bey's critically acclaimed Lemonade visual album but had to pass on the opportunity because she had already committed her time to working on Rocky Horror Picture Show.
"Actually, Miss Tina [Lawson] contacted me about their initial concept of 'Sorry' from Lemonade," Cox shared during an interview on Sway in the Morning. "They wanted to have all these powerful, empowered black women in the video and they wanted to have me and Viola [Davis] and Kerry [Washington]."
While Cox had to miss out personally, she has no hard feelings about how Lemonade turned out, saying that she couldn't have pictured it any differently.
"I was shooting Rocky Horror Picture Show at the time and they were like, 'Can you get the EP [executive producer] to shoot something and send it to us?' and there was just no time to do it," Cox added, explaining further. "The concept changed. And could you imagine anyone else? I mean, there was Serena Williams, like, giving us full life."
While we think Laverne Cox having a cameo in Lemonade would have been absolutely to die for, we can understand the bittersweet reality of having conflicting schedules. 
Perhaps now that the pair have officially met, we'll see another chance for them to collaborate in the future.
Take a look at a snapshot of Laverne Cox meeting Beyoncé for the first time in the Instagram post below.