A Shameful Week of Bigotry in America
The Paris attacks have brought in another wave of anti-Muslim sentiment.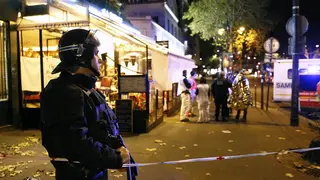 A year ago, when Americans had been whipped into a media-induced frenzy over the spread of a rare deadly virus, I warned that it was not the time to panic about Ebola. But Donald Trump was adamant. He demanded that President Obama impose an immediate travel ban on all flights from West Africa.
A year later, Trump's prediction of Ebola doom sounds pretty ridiculous. But Trump, like many other Republican politicians, specializes in manipulating public fear and hysteria, demanding quick and easy solutions to complex problems and condemning the White House for acting too calmly and deliberatively.
In the past week, since the terrorist attack on Paris, we've seen the resurgence of the Ebola hype in the form of shameful political demagoguery misguidedly directed at Syrian refugees because one of the Paris attackers reportedly carried what has now been determined to be a fake Syrian passport. We've also seen a new wave of anti-Muslim sentiment. Don't be surprised if this intensifies after the terror attack in Mali today.
Here are the facts. Although several of the Paris attackers had traveled to Syria, none of the terrorists identified so far have been Syrian refugees. In fact, none of the ISIS-linked suspects who have ever been charged in the U.S. came from Syrian. Nearly 81 percent of all U.S. ISIS suspects were American citizens. And of the 2,000 Syrian refugees who have resettled here in the past few years — far fewer than the 36,000 Canada has accepted — none have been arrested for terrorism, according to the White House.
So what do we do about terrorism? One proposal is to ban terrorists from buying guns in the U.S., but that seems too logical for today's GOP. The National Rifle Association opposes a ban on gun purchases by those on the government's terror watchlist and Republicans aren't ready to challenge their financial overlords to close this outrageous loophole. As a result, terrorists who aren't allowed to board a plane are still allowed to buy assault rifles legally in America.
But why deal with the real problems of gun violence when you can stoke fears about dark-skinned foreigners with a different religion? According to federal government records, about 3,400 Americans have died of terrorism since 2001 while 34,000 die of gun violence every year. Yet this topic won't get much traction when one political party elevates idiots like Sarah Palin who claimed today that "Jesus would fight for our Second Amendment."
Don't let facts get in the way of good old-fashioned demagoguery. The U.S. House of Representatives on Thursday voted to restrict Syrian refugees from resettling in the United States. And 27 Republican governors and one Democrat vowed this week to oppose resettling Syrian refugees in their states.
All Republican presidential candidates have said they would ban Syrian refugees from entering the U.S., although Jeb Bush and Ted Cruz "generously" agreed to allow Syrian refugees who are Christian. Ben Carson compared Syrian refugees to "rabid dogs." And Trump, not to be outdone, has proposed closing mosques and forcing Muslims to register in a U.S. government database, raising the oft-used but suddenly appropriate comparison to Nazi Germany. And these are the same champions of religious freedom who wanted to protect Kentucky clerk Kim Davis from government overreach.
The hypocrisy couldn't be more stunning. While France, the target of the terrorist attack, announced this week that it would accept 30,000 Syrian refugees, politicians in America, the home of the French-built Statue of Liberty, vowed to close our borders to the "huddled masses" fleeing ISIS terrorism. Although the U.S. war in Iraq helped to create the very instability in Syria and the Middle East that enabled ISIS, the same political geniuses who supported the Iraq War would not turn their backs on the refugees created by our intervention.
What's more hypocritical is that many of the opponents of allowing Syrian refugees appear to be the same people who argued a few months ago that "All Lives Matter," not just "Black Lives Matter." I'm not convinced when I hear people like Rep. Martha McSally, a Republican from Arizona, who argued on MSNBC this morning that the U.S. should launch airstrikes against Islamic terrorists even if we know that civilians will be killed.
Maybe if we load up the ships with fetuses and police officers and white Christian Europeans, Republicans might not be so callous toward Syrian refugees. Or perhaps, as we enter into Thanksgiving week, they're afraid the Syrian refugees will turn out to be same sort of violent religious fanatics who first came to the shores of America as Christian refugees from Europe hundreds of years ago.
Watch Marc Lamont Hill's commentary on the Paris attacks below.
Keith Boykin is a New York Times best-selling author and former White House aide to President Clinton. He attended Harvard Law School with President Barack Obama and currently serves as a TV political commentator. He writes commentary for BET.com each week.
The opinions expressed here do not necessarily reflect those of BET Networks.
BET National News - Keep up to date with breaking news stories from around the nation, including headlines from the hip hop and entertainment world.
(Photo: Thierry Chesnot/Getty Images)