'The Equalizer': Laya DeLeon Hayes Reveals Her Tight-Knit Relationship With Queen Latifah
"It's been wonderful to be able to actually bond and really get to know one another," she says.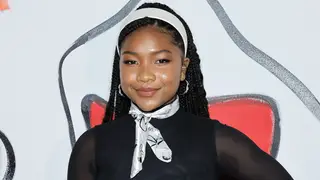 The second season of The Equalizer premiered on Oct. 10 on CBS, and budding actress Laya DeLeon Hayes has said her bond to her TV mom, Queen Latifah, has grown.
Speaking with PEOPLE, Hayes is opening up about the tight-knit relationship she has built with Latifah. The 17-year-old plays Delilah, the rebellious teenager and daughter of Latifah's character Robyn McCall.
"It's easier just getting to know one another in season two, but she really is the coolest," says Hayes. "It was immediate in season one. It was really easy when we were about to shoot the pilot, you know, I think from day one. She's really wanted to make it a collaborative effort for Robyn and Delilah and take a lot of my own experiences with me and my mom and add them into the scenery, so they can become Robyn and Delilah's thing as well."
She added, "I think it's been wonderful to be able to actually bond and really get to know one another this season."
In an earlier interview with PEOPLE this year, the teen shared Latifah's impact on her and said that she is one of her mentors.
"There are things that I've just picked up and seen," she says. "Every time that I do a scene with her, I'm learning and soaking everything up. I think one of those things has definitely been having your own opinions on set."
Prior to her primetime gig, Hayes was seen on Raven's Home and Doc McStuffins. As she grows her acting resume, she tells PEOPLE she would love to work alongside Angela Bassett, Viola Davis, and Denzel Washington.
The Equalizer airs Sundays at 8 p.m. ET on CBS.