Verzuz' Returns With T.I. And Jeezy
The ATL rappers will kick off Season 2 of Verzuz on Nov. 15.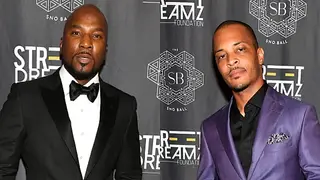 Atlanta rappers, T.I. and Jeezy will kick off Season 2 of Verzuz on Thursday (Nov. 19). 
The news comes after a commanding Season 1 that featured some of the best head-to-head battles, including Brandy v. Monica, Johntá Austin  v. Ne-yo, Jill Scott v. Erykah Badu, Teddy Riley v. Babyface. Now, more fans will be able to bask in the glory of their favorite tunes once again, thanks to Timbaland and Swizz Beatz, the show's creators. 

Check the official poster below:

It's no secret that T.I. has been actively campaigning to go up against someone in the Instagram Live battle series. The Grand Hustle chief singled out 50 Cent as a worthy competitor, but the G-Unit honcho has repeatedly shut him down publicly. On Tuesday (October 20), Busta Rhymes was on The Fat Joe Show, where he issued a challenge of his own to T.I.

"From one brother that loves you to my brother that knows I love him. I'm begging you to step in the ring with me. I'ma bust your a**," Busta declared.

But, the Atlanta rapper later "respectfully" declined his offer via Instagram Live. "I salute and respect Busta a whole lot," he explained. "I just think the generational gap might be just a little too much." Tip, however, did namedrop Jeezy, saying "Everybody keep saying me and Young [Jeezy]. But if Young wanted this smoke, he'd say it. If y'all want it, tell him to say it."

Well, it looks as if Jeezy has answered his call. Without directly naming T.I, he posted a cryptic video message on Instagram on Wednesday (October 21). 

"Say bruh. You done been around the whole world on your campaign. Now you back here," Jeezy said. "I don't know what you avoiding me for. I'll tell you what though, since it mean that much to you, put a date on it. I ain't gon' meet you there, I'm gon' beat you there. Straight up. Big Snow."

Soon after, Tip slid into Jeezy's comments. "Hmm. Could this long time constituent of mine be referring to me?" he jokingly responded. 

The Verzuz battle between the trap trail blazers has  yet to be confirmed, but fans are excited at the thought of two of Atlanta's finest going head-to-head nonetheless. 

It's certainly an interesting prospect. Swizz Beatz and Timbaland have confirmed that season two of their highly-acclaimed Verzuz battle series is "coming soon," so only time will tell.