Derrick Hayes And Pinky Cole On Love, Friendship, And Building Bank As A Power Couple!
The owners of Big Dave's Cheesesteaks and Slutty Vegan spoke to BET Lifestyle about how they keep their union strong and successful.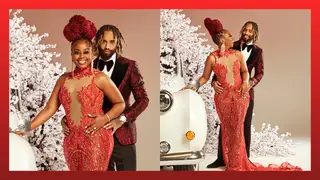 For Aisha "Pinky" Cole and Derrick Hayes, it was love at first sight! Although it may sound cliche, the lovebirds have been inseparable since they first met up for a business lunch in 2020. From that moment, Pinky says she knew he was the one.
"I instantly felt like I met my match because we had the same drive, the same energy, and the same passion," Pinky, the owner and operator of the popular vegan food chain Slutty Vegan, shared with BET Lifestyle about the moment she met Derrick. "We think about life and the world the same. Ever since that moment — almost three years ago — we've literally been inseparable."
Derrick, who is the founder and CEO of Big Dave's Cheesesteaks, shared the same sentiments during our candid conversation about love and building a legacy as a couple. "I think our passion and love for people brought us together. Our relationship is unmatched. We barely spend time apart."
What started as a conversation about business turned into a romance filled with love, laughter, friendship, and power moves. The entrepreneurs—who became engaged on stage at Essence Fest in July 2022—accredited their relationship success to sharing the same business interests and having a strong support system.
"We have a really, really strong village that allows us to continue to pursue our dreams of being CEOs and entrepreneurs," Pinky explained about how they balance multiple businesses and family time with their children. "We're in the same industry, so he understands when I'm talking 'restaurant talk' and he never gets bored. We can talk about it all day long because we're a reflection of each other."
"My wins are her wins and her wins are my wins."
"Being in a relationship with someone that's like-minded is so important. I don't know many women I can wake up at 4 in the morning with a business idea," Derrick added with a chuckle. "We're on the same mission. Being on the same track with someone you love makes a relationship so much easier."
Derrick further explained that he's a big dreamer that chases "levels" not cash and how it feels great to have someone with the same mindset by his side. "I'm thankful for having somebody in my corner that understands what I want in my life and really wants to see me win—it's not fake. There's also no competition in our relationship. My wins are her wins and her wins are my wins."
When asked what advice they have for couples who want to build a business empire together, the soon-to-be-married couple both agree that it starts with keeping people out of your personal business and respecting each other's brands.
"We are a reflection of each other. He owns his own business and I own my own business, but when we come together we are a business," Pinky noted.
The NAACP award nominee continued, "For couples who are in the business of love and entrepreneurship, it's important to understand that you are a direct reflection of your spouse. That can be a good thing, but that very well can be a bad thing too. Couples have to be very strategic and mindful of that. It's very important to have these conversations before you come into the business of love."
As for what's next for the restaurateurs, they have plenty of new projects in the works—including breaking stereotypes that say couples cannot work to build bank together.
"We're showing people that you can be in love and in business, you can build million-dollar companies, and you don't have to settle for the status quo," Pinky shared with her soon-to-be hubby by her side. "You don't have to just be a rapper to get it. You can be a restaurateur and become super successful. It's amazing that we get to change the narrative together!"
Editor's Note: This story has been edited and condensed for clarity.