White Sorority Girl Expelled From University Of Alabama And Alpha Phi After Saying 'I F*****g Hate N*****s' In Racist Viral IG Video
Harley Barber said, "I feel so, so bad and I am so sorry."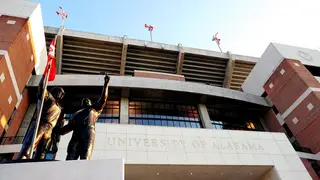 The white sorority girl who posted a racist video wherein she repeated the word "n****r" has been expelled by both the University of Alabama as well as the Alpha Phi organization.
Harley Barber, a 19-year-old New Jersey native, identified herself in the video as being a member of the Alpha Phi sorority chapter the Tuscaloosa college. After school officials were made aware of the video, they conducted an investigation, reported AL.com..
Ultimately, the school decided Barber does not reflect their values and cannot continue her education at the University of Alabama.
"Like many of you, I find the videos highly offensive and deeply hurtful, not only to our students and our entire University community, but to everyone who viewed them. The actions of this student do not represent the larger student body or the values of our University, and she is no longer enrolled here," the statement read in part.
In a phone conversation with the New York Post, Barber said she's received threatening phone calls over the racist remarks.
"I feel horrible," she told the post. "I feel so, so bad and I am so sorry."
When asked if she considered not posting the videos after receiving advice from her other sorority sisters, Barber said: "No, I'm an idiot. There's no excuse. I did something really bad."
"I did something really, really bad," Barber added. "I don't know what to do and I feel horrible. I'm wrong and there's just no excuse for what I did."
In one of Barber's videos, which went viral, she says she hates "n****rs" and in another she repeats the word many times in a row. To add insult to injury, the videos were posted on Martin Luther King Jr. Day.
"I've wanted to be in Alpha Phi since f–king high school and nobody f*****g understands how much I love Alpha Phi," Barber says to the camera. "And now someone wants to save my finsta because I said n****r? You know what? N****r, n****r, n****r. I don't care if it's Martin Luther King Day."