Damar Hamlin Is Planning For a Comeback As He's Cleared To Return To NFL
The Buffalo Bills safety went into cardiac arrest in January during a televised football game.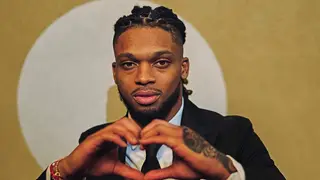 Don't call it a comeback, or maybe you should as Damar Hamlin is about to suit up once again.
The Buffalo Bills safety just received the all-clear today after three specialists all agreed that it's safe for Hamlin to return to the game he loves, according to an announcement made by Bills General Manager Brandon Beane.
The memory of Hamlin sprawled out on the field, receiving CPR and other life-saving first aid after his heart stopped during a televised game on January 2, still haunts fans. Hamlin suddenly passed out after receiving a blow to the chest from Cincinnati Bengals receiver Tee Higgins. Immediately, those watching saw the concern on his teammates' faces as Hamlin was removed from the field. He spent several weeks recovering and remained on the injured reserve list. Now, Hamlin is excited to head to practice during the Bills' off-season training.
"My heart is still in the game," Hamlin said in a news conference on Tuesday (April 18). "I love the game. It's something I want to prove to myself, not nobody else."
During his recovery, the 24-year old received numerous messages from well-wishers, and nearly $9 million was donated to his toy drive charity through GoFundMe. He shared a video statement on Instagram shortly after his accident where he stated, "I can't tell you how appreciative I am of all the love, all the support, and everything that's just been coming my way.
"What happened to me on 'Monday Night Football' I feel is a direct example of God using me as a vessel to share my passion and my love directly from my heart with the entire world, and I'm able to give it back to kids and communities all across the world who need it the most, and that's always been my dream. That's always been what I stood for, and what I will continue to stand for."