Damar Hamlin: 4 Things To Know About The Buffalo Bills Player Fighting For His Life
The standout defensive back places family first and gives back to his community.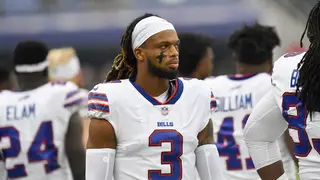 Buffalo Bills defensive back Damar Hamlin remained in critical condition at a hospital Wednesday morning (Dec. 4) after suffering a cardiac arrest during the NFL Monday Night Football game against the Cincinnati Bengals.
Hamlin's uncle, Dorrian Glenn, told CNN that his nephew, 24, remained sedated on a ventilator on Tuesday night while doctors tried to get him to breathe on his own. Glenn said Hamlin suffered lung damage while making a tackle. The ventilator helps ease the strain on his lungs.
Glenn said the doctors told him that they positioned Hamlin on his stomach to help with the blood on his lungs. "It seems like he's trending upwards in a positive way," Glenn stated.
After collapsing on the field, medical personnel restored his heartbeat on the field before Hamlin was transferred to the University of Cincinnati Medical Center for treatment. Many of the NFL players on the field fell to their knees, prayed and consoled each other. A few of them openly wept.
"I'm not a crier, but I've never cried so hard in my life. Just to know, like, my nephew basically died on the field and they brought him back to life," Glenn said.
Hamlin has a tight-knit family. "Please keep Damar in your prayers," a statement from the family said. They thanked the medical professionals who gave him life-saving CPR on the field, as well as the support they've received from fans.
This unfortunate incident has thrust Hamlin onto the national stage. By all accounts, he's a remarkable athlete who cares deeply about his family and community. Here are four things to know about him.
1. Top high school football player
Born and raised in McKees Rocks, Pa., a Pittsburgh suburb, Hamlin was a standout cornerback at Pittsburgh Central Catholic High School where he compiled 89 tackles, two interceptions and three fumble recoveries to lead the team to a 15-1 record, according to his University of Pittsburgh Panthers bio.
For those accomplishments on the field, he was named Pennsylvania's top-rated defensive player in 2015. His accolades also include: Pennsylvania Football News Class AAAA Defensive Player of the Year, All-State Class AAAA by the Pennsylvania Football Writers and Pennsylvania Football News, and one of the best players in the state by the Pennsylvania Football News 2015 #TeamPA.
2. Life centers on family
Hamlin was recruited by several top colleges, including Penn State, Ohio State, UCLA and Notre Dame. But he chose to play college football near home at the University of Pittsburgh. In fact, being a role model to his younger brother, Damir Hamlin, was his main reason for choosing Pitt.
"I wanted to give him that image growing up," Hamlin told Go Long's Ty Dunne, according to a tweet from CBS Sports' Aditi Kinkhabwala. "Me growing up that he can look back on and be able to model himself after. That's something I never had. I had a bunch of examples of what not to do… Me, growing up, I always questioned if I was doing the right things. Just because I didn't have anybody I could look up to… That's why I stayed home at Pitt. I chose Pitt over everybody. Just for that one reason — for my brother."
Hamlin's first job, at age 12, was working for his family's cleaning business, according to his Buffalo Bills bio. During an interview this season, retweeted by Fox Sports reporter Henry McKenna, Hamlin spoke about the importance of his "family unit," which includes his brother and parents, Mario and Nina Hamlin.
"I'm big on my family unit. My mom, my dad, my little brother --- that's pretty much my whole world. .... Any other thing going on in my life revolves around them," Hamlin said.
His college football career with the Panthers started slowly in 2016 before picking up steam. Injuries kept Hamlin off the field, limiting him to 13 games over his first two seasons. Things turned around in 2018, when he started 14 games at safety, recording a team-high 90 tackles.
His success continued into the 2019 season when he finished with 84 tackles, second on the team, and third in pass breakups with 10. In 2020, Hamlin reclaimed the top spot on the team when he logged the most tackles, 67. He was voted a Pitt captain by his teammates and invited to play in the prestigious Reese's Senior Bowl all-star game.
He declared for the 2021 NFL draft and was picked in the sixth round by Buffalo.
4. Gives back to his community
Hamlin has a history of supporting the community that helped to raise him. His injury thrust The Chasing M Foundation, a charity Hamlin started shortly before joining the NFL, into the national spotlight.
By Jan. 4, his $2,500 GoFundMe campaign to purchase toys, support back-to-school drives and kids camps for children in his McKees Rock hometown climbed to more than $6 million.
Before the foundation, Hamlin started his own clothing line, Chasing Millions, during his college freshman year to provide clothes and jerseys for kids. His clothing line is "for those who have a dream and pursue it. …It is for those who want something more and can't settle to be average," according to his Buffalo team bio.