Damar Hamlin 'Will Play Professional Football Again' Doctors Say
The Buffalo Bills defensive back has made an amazing recovery from cardiac arrest.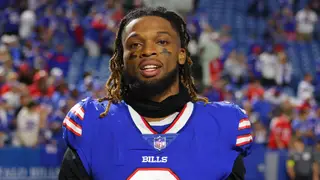 Speaking Wednesday (Feb. 8) on SiriusXM's "Heart to Heart" radio show, the NFL Players Association medical director, Dr. Thom Mayer, said he's certain Hamlin will play again, Sports Illustrated reports.
"I don't want to get into HIPAA issues, but I guarantee you, I guarantee you ... that Damar Hamlin will play professional football again," Mayer responded to a caller's question on the radio show.
On Jan. 2, Hamlin, 24, appeared to make a routine tackle of Cincinnati Bengals wide receiver Tee Higgins during the Bills Monday Night Football game in Cincinnati. Hamlin stood up when the play ended but collapsed on the field seconds later. Medical personnel rushed onto the field and performed life-saving CPR after his heart stopped.
He was rushed to the University of Cincinnati Medical Center, where he clung to life and made a remarkable recovery. On Jan. 9, doctors released Hamlin and transferred him to a medical facility in Buffalo to continue his recovery.