Robin Thicke And Paula Patton's Epic Custody Battle Comes To An End
There were abuse allegations, restraining orders and bribery claims.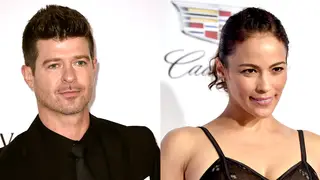 Custody arrangements are never easy to deal with, and when it comes to two celebrities whose lives are constantly in the media, they can get downright savage. 
Rob Kardashian and Blac Chyna, as well as Jesse Williams and Aryn Drake-Lee, are currently in the middle of a public war over their kids. However, it looks like one couple has finally gotten it together after epic messiness that involved cops, bribery allegations and child protective services: Robin Thicke and Paula Patton.
TMZ.com is reporting that the couple finalized an arrangement for their 7-year-old son Julian Fuego. His time will be split evenly with mom and dad. Julian will stay with Robin Monday through Wednesday and Paula gets him Wednesday through Friday (alternating on weekends). Vacations and holidays are reportedly covered in this arrangement. 
Back in January, Paula filed a restraining order against Robin, claiming Julian told his school that his father used "excessive force" on him at home. Later, she also accused her ex of bribing a child services worker with free sushi. (Dang, we'd figure he'd do better than that when it comes to keeping custody of his son!) Regardless, sounds like the worked it all out just in time for Julian to welcome a sibling — Robin and his 22-year-old girlfriend, April Geary, are expecting a baby next year.
For info on Rob and Chyna's saga, watch the BET Breaks video above.