NFL Star Juwan Johnson Takes Sweet Post-Game Photo With Wife Chanen and Newborn Baby Girl J'adore
Their daughter is 5-weeks-old.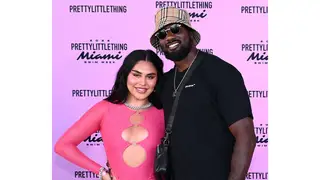 Juwan Johnson is making precious gridiron memories these days.
To highlight the first game of the NFL season at Caesars Superdome on Sunday (Sunday 10), the New Orleans Saints player took an adorable snap with his favorite girls: His wife Chanen and their newborn daughter J'adore Blessing, according to PEOPLE.
Chanen shared the adorable moment of the trio on the field with her followers on Instagram. "baby's first game🏈🖤⚜️ #juandchan," she captioned the post.
The first photo in her post showed the happy family posing on the field after the game. As mommy and daddy stand beside each other while flashing smiles, Johnson holds the cute little girl in his arms.
Her post also featured the 5-week-old smiling at the camera in a couple of frames and the mom and daughter duo rocking matching denim jackets with the team's iconic gold and black colors along with Johnson's 83 jersey number.
In addition to those, the new mom posted more memories of their fun time on the field together, including when the tight end spotted his family on the sideline and then ran over to them.
Little J'adore made her grand entrance into the world in July. But for her mom, it was a something she never thought could come true. The proud husband and dad took to Instagram with heartwarming words to celebrate the milestone moment.
"What a BLESSING! A doctor in college told her she could never have kids. That she wouldn't be able to. A year ago having a pair of miscarriages. But i know something and someone who is bigger than this giant. God has never lost. Not ONCE," he wrote in the caption.
"This girl right here his one of a kind and I'm grateful that i call her my wife. God gave this little girl and this is a testament of unwavering faith. Thank you Jesus. J'adore Blessing Johnson welcome to this world princess! Daddy will alwayssss be there for you & mommy."
The parents' love story dates back to when they were 20-year-old students at Penn State, who later got married in February 2020.