Tyrese Says Will and Jada-Pinkett Smith Gave Him $5 Million To Stay Off Social Media And Pay Legal Fees
Powerful friends come in handy.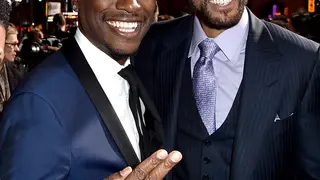 Just days ago, it seemed like Tyrese Gibson's life was going way left. His public breakdown had people torn. Some questioned how low he actually was and others had appropriate sympathy.
It sounds like Will and Jada Pinkett-Smith were a couple of those who not only felt bad for their longtime friend, but wanted to help in a big way.

On Saturday (November 4), the Fast and Furious actor took to Instagram to inform social media that he spoke with Jada Pinkett-Smith and apparently, her family wants Tyrese to lose his depression, while also staying off Instagram and Twitter.

"Sometimes you just need 1 phone call," he captioned under numerous pics of him with Will Smith and his family. "Just know that God is the greatest…… They don't want any love….. They told me to go easy…. just know that it's just good to know there's still some really nice sincere people out here…… Jada-Pinkett-Smith and my hero WILL SMITH….. Not only does your heart beat for Shayla…… it beats for the world……. We love and appreciate you more thank you could ever know…"

Originally, the post seemed vague. Well, that staying off social media part? Apparently it starts after Tyrese's next post where he revealed just how kind the Smith's are. According to the actor, Will and Jada are giving him $5 million to stay off social media, and of course, pay his lawyer's fees.

"My wife kept the news away from me cause I've been on with lawyers all day but our family and our sister Jada-Pinkett Smith and my brother Will Smith just sent us 5 million to help keep us afloat," Tyrese captioned under another pic of him with the Smith's, which was deleted shortly afterward. "You've guys asked me to get off and stay off the Internet now that my daughters legal fees will be paid."

Will or Jada have yet to confirm the news. It's curious as to why Tyrese decided to tell everyone that his friends are helping out, though, everything he's been doing recently requires some sort of explanation.

Social media was also up-in-arms about the donation news. They have some of the same questions we do. See Tyrese's deleted post as well as reaction to it below.

reaction