13-Year-Old CEO Moziah Bridges Builds $200,000 Business
The young entrepreneur's mentor is Shark Tank investor Daymond John.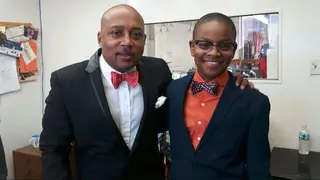 Young entrepreneur Moziah Bridges appeared on the hit ABC investment television series Shark Tank last September and now, thanks largely to his investor and mentor Daymond John, his bow tie business has skyrocketed. In a feature piece on Entrepreneur.com, it is highlighted that Mo's Bows has now shown at New York City's Mercedes-Benz Fashion Week.
John flew the then 12-year-old to the Big Apple for the event and introduced him to power players in the fashion and business industries. After he accompanied the young mogul on a morning taping of CNBC's Squawk Box, he received a call from Karen Katz, CEO and president of the Neiman Marcus Group who showed interest in Bridges's work.
"I've never been in Neiman Marcus with any of my brands, and it takes the 12-year-old child to get to Neiman Marcus to call me!" he said. "So that's the student teaching the teacher, you know?"
A year later, Moziah Bridges is riding high on his successful business venture with the help of his mother Tramica Morris. He has since sold $200,000 worth of his handmade bow ties and various other men's fashion accessories and has seven employees, including his mother and grandmother.
Though he is, technically, his mom's boss, she still wears the pants in the grander scheme of things: "Mo is the CEO of the company, but I'm the CEO of Mo," she said.
The teenager had the initial idea for Mo's Bows when he was just nine after his grandmother, a retired seamstress, stressed to him the importance of "dressing sharp." Determined to make something of this early formed passion, he asked her to teach him how to sew, and eventually developed the talent of creating bow ties. He sold them online to several stores in the South.
By the time he taped his Shark Tank segment during the show's fifth season in 2013, he had sold 2,000 bow ties and brought in $55,000 in revenue. Both Bridges and his mother appeared on the show together pitching the company and seeking $50,000 in exchange for 20 percent equity in the company.
John, who is the founder and CEO of FUBU, said that he was inspired by Bridges's story after seeing him there with his mother, who raised him as a single parent. He related to this on a personal level as he had a similar upbringing.  
Their mentor/mentee relationship seems to be flourishing well. Bridges tells Business Insider that his business saavy has significantly improved with the help of John's input. He said that John advised him to continue to turn down investments as he steadily builds his company and brand.
In an even greater feat, the young boss revealed that John also inspired him to take his brand partnerships and licensing deals to the next level. Mo's Bows just secured its first one late last year with Cole Haan. To date, it has also solidified its deal with Neiman Marcus.
Mo's Bows can be purchased at Neiman Marcus's online shop and in a limited brick-and-mortar release. They can also be purchased at the company's official website www.mosbowsmemphis.com. 

BET National News - Keep up to date with breaking news stories from around the nation, including headlines from the hip hop and entertainment world. Click here to subscribe to our newsletter. 
(Photo: Courtesy of Mo's Bows Memphis)