Colin Kaepernick Reportedly Had A Lengthy Call With Diddy About Buying The Panthers
There are also new details about the rap mogul meeting with potential investors.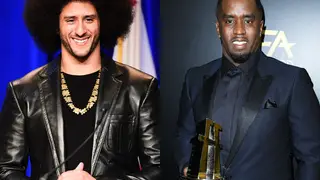 The website added that both men have already begun putting in work, with Diddy pushing to slate meetings with potential investors to form this ownership group. A source close to Kaepernick told Yahoo that Kaep has also already started to reach out to potential investors himself, including entrepreneurs, fellow sports figures and venture capitalists. One of them could be Steph Curry, who also tweeted Diddy with interest about owning the Panthers.
That same source claims Kaepernick and Diddy have a "shared vision" to form an ownership group, which more represents NFL players in the league, which is about 70 percent Black. If successful in their attempt to buy the Panthers, it'd mark the NFL's first Black majority owner.
"The interest is real and it's moving forward," the source with knowledge of Diddy and Kaepernick working together told Yahoo. "They want to make this a reality. It's serious."
In September, Forbes pegged the Panthers at a $2.3 billion valuation, but that could increase to $2.5 billion when the team's current owner, Jerry Richardson, sells his controlling stake of 48 percent at the end of this season, as reported by Yahoo. That would mean that the ownership group spearheaded by Diddy and Kaepernick would need to come up with at least $1.2 billion. 
Forbes has estimated Diddy's net worth to be $820 million, but that doesn't represent his liquid assets.
That being said, the report that Diddy and Kaepernick are working together to recruit possible fellow investors and aggressively trying to schedule meetings is promising.
Do you think they'll be able to successfully put together an ownership group to become the Panthers' next owner?
We'd love to see this happen.
BET Sports News — Get the latest news and information about African-Americans in sports, including weekly recaps, celebrity news and photos of your favorite Black athletes.