Archeologists Uncover Secrets of Black Village Beneath Central Park
Before it was Central Park, Seneca Village was a predominantly Black neighborhood full of middle-class Americans.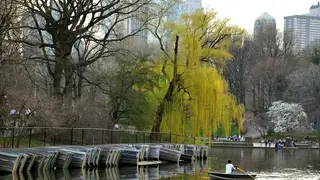 Many New Yorkers and visitors to America's most famous city revel in Central Park. Designed by Frederick Law Olmstead and opened in 1857, it's considered a jewel of New York City, located smack dab in the middle of the island of Manhattan. It's one of the only places to go to get real greenery in New York, and it's beloved by millions for its peaceful gardens and placid waters. But there's an ugly history hiding beneath Central Park that a new archeological dig has uncovered—an ugly racist history.
In an eight-week dig led by professors from Barnard College, City College of New York, Columbia University and NYU, archeology students delved into the historical secrets of Seneca Village. At its height, Seneca Village was a robust community of nearly 300 people that existed between between the 1820s and 1850s. Though it was a predominately Black neighborhood, housing some of the first Black property owners in the city, it was also home to white European immigrants, who were coexisting peacefully with their African-American neighbors. The diverse community spanned from 81st to 89th street, between Seventh and Eighth avenues. But then came plans for Central Park, and Seneca Village, and the thriving community that lived there, was decimated.
Most people have never heard of Seneca Village. Most people have no idea that there were middle-class African-Americans who owned property living in the middle of Manhattan 160 years ago. When they go to Central Park, most people have no idea they're walking over what were once people's homes.
A lot of people, many of them racists, say they don't understand how Blacks haven't been able to find success so many years after slavery ended. "They need to get over it," some of them will say. "They've had the same chances everyone else has." Seneca Village is a testament to the fact that African-Americans didn't, in fact, have the same chances. Frequently throughout American history, when Blacks started doing things like getting property, amassing wealth and building stable lives, people would come in and whimsically snatch that stability away. Seneca Village may have been a great place to live, but the city wanted it for a park, so they took it away.
Next time you go to Central Park, remember that some people lost everything so that you could enjoy that greenery. Hopefully it will make you appreciate the space even more, and appreciate the struggles of our poorest citizens even more as well.
(Photo: Joe Corrigan/Getty Images)