Wu-Tang Clan & Nas Release Mini Tour Documentary
The eight-minute doc highlights moments of their 2022 'NY State of Mind Tour.'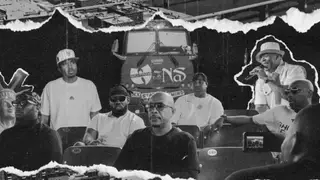 In a new eight-minute mini documentary produced by Live Nation, hip-hop icons Wu-Tang Clan and Nas along with special guest Busta Rhymes give fans an inside look at their national 2022 NY State of Mind Tour.
According to MusicUniverse, the video gives fans a glimpse into the iconic nationwide tour of the hip-hop legends.
During some downtime in St. Louis, the iconic rap stars sit down and talk about how they represent their five boroughs and the city that birthed the culture.
"We been through so much, you know, we live in a fast city. That struggle had a lot to do with molding us, you know? So a lot of times, we was listening to the music that was coming from neighborhoods that we came from, which was the five boroughs," Raekwon says. "So that became literature in the street. Then the next thing you know, it got incorporated in the music. So it kind of like transcended into other cities."
The tour is set to wrap up in the coming days with several dates across the state of California in early October.
One Wu-Tang Clan member has been noticeably absent. Method Man told fans on an Instagram Live that he has been busy with his acting career, according to HipHopDX, "I fucking love Wu-Tang, wish I could have been on that tour with them," he admitted. "The booking came at a bad time – I was already booked to do a movie. Only reason why I'm coming back saying this is because of my love for my fans, okay. The real fans."
The documentary features the artists paying tribute to each other. About Nas, Raekwon noted, "The way he spoke, the way he put words together, his literature, his language, the way he described things — Nas is a painter. And to be here today to look at him and say, 'Yo, he's one of the top five dead or alive in the game.' Nobody can dispute that."
Check out the Wu-Tang Clan & Nas: A NY State of Mind here: