2023 Oscars Nominations: Danielle Deadwyler 'Till' Movie Snub
Social media reacts to the actress not getting the recognition she deserves.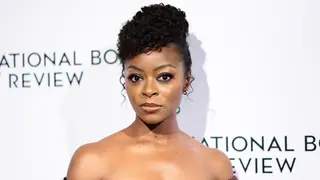 Now that the 2023 Oscars nominations have been announced, the conversation about snubs has started, and why Till actress Danielle Deadwyler wasn't nominated for Best Actress is a hot topic.
Following the nominations announcement, social media quickly reacted to Deadwyler's name being noticeably absent from categories despite an exceptional performance as Mamie Till-Mobley, the mother of Emmett Till in the film Till.
In an interview with TMZ, Emmett Till's family responded to Deadwyler's snub from the Academy Awards.
"[She] embodied and delivered the true essence of our cousin, a loving and courageous mother, Mamie Till-Mobley. She reached deeply and poured her heart and soul in this role as she embraced us intimately like no other, while transforming into Mamie and bringing her true essence and story to life," said Deborah Watts, Emmett's cousin and co-founder of the Emmett Till Legacy Foundation.
Deadwyler has yet to respond publicly to not being nominated for an Oscar for the 2023 ceremony.