Hold The Waist Trainers! PreMadonna's Hot New Hustle Is A Staple In Rihanna's Kitchen
Her spices are strong, but her hustle game is stronger!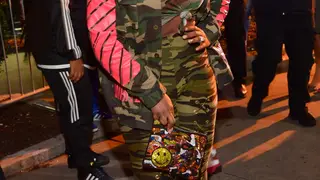 Ever wonder if Rihanna can throw down in the kitchen? Well, according to her, she does and has a whole spice rack of quality seasonings to prove it. The superstar shared a snippet on her Instagram Stories of her collection of PreMadonna Seasoning.
If the name "'PreMadonna" rings any bells, it's because she's the waist-training queen responsible for the snatched waists of our fave celebs and credited with sparking the whole IG trend in the first place. Apparently she can snatch waists and help you make a BOMB plate of food at the same damn time.
TBD on what RiRi is whipping up, but Cardi B is a supporter of PreMadonna's chef skills and actually said she wants her cookbook (available for pre-order, $35) so she can make Offset some eggs. Yes, PreMadonna has a cookbook to go along with her range of poultry, seafood, hot chicken, and Creole spices. And yes, Cardi said she needs a cookbook to make eggs…
But in all seriousness, PreMadonna's The Recipe Bible promises to teach you way more than just eggs—think red velvet waffles with fried lobster! Her recipes claim to capture "the soul and essence of Southern comfort food and cultured African cuisines."
Don't believe us? Check out her YouTube to see her skills in the kitchen for yourself.
She changed the waist game, so we can't wait to see her upgrade our plates in 2019, especially if they'll look like this!