BET Awards 2022: Check Out These Essential Tracks from the Queen Bee Lil Kim
What's your favorite song from the legendary rap star?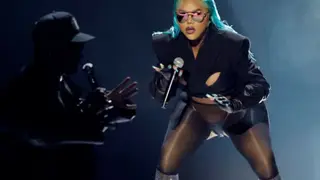 The Queen Bee, aka Lil Kim, was one of many surprise performers at the BET Awards 2022 hosted by Taraji P. Henson. The legendary emcee made a surprise appearance during the musical tribute to music mogul and this year's "Lifetime Achievement Award" recipient Sean "Diddy" Combs. The female rapper joined the Bad Boy Records founder on stage for an energy packed performance of their hit single "All About the Benjamins." In honor of the Brooklyn native's outstanding performance, check out these essential tracks from the Queen Bee herself, Lil Kim.
"Lighters Up"

Kim wrote and recorded this 2005 Scott Storch-produced track titled "Lighters Up"  from her fourth studio album, The Naked Truth. The single debuted at number 100 on the Billboard Hot 100, then quickly climbed to number 31.

"The Jump Off" Feat. Mr. Cheeks

"The Jump Off" served as Kim's leading single from her third studio album  La Bella Mafia. The Timbaland-produced track featuring Mr. Cheeks did a slow climb up the charts debuting at number 95 before creeping into a Top 20 spot at number 17 on the Billboard's Hot 100.

"Crush on You" Feat. Lil Cease

"Crush on You" served as the second single and one of many standout tracks from Kim's debut studio album, which features Junior M.A.F.I.A. member Lil' Cease. The song has been sampled numerous times, including Mariah Carey, who sampled the track for her single "A No No" from her fifteenth studio album Caution.

"No Matter What They Say"

Kim called out her doubters and naysayers with "No Matter What They Say" in 2000, proving that she could hold her own in the male-dominated industry without the co-signs of legendary rap stars. Longtime friends Missy Elliot and Mary J. Blige, Lil Cease, Redman, Methodman, Diddy, and more made cameos.

"Not Tonight" (Ladies Night Remix) Feat. Missy Elliott, Da Brat, Left Eye, Angie Martinez

Lil Kim unleashed the ultimate women empowerment anthem following the release of her 1997 classic "Not Tonight" (Ladies Night Remix), featuring a slew of iconic artists, including Missy Elliott, Da Brat, and Left Eye, and legendary radio personality Angie Martinez.

The music video featured guest appearances from other female celebrities, including Mary J. Blige, T-Boz, Queen Latifah, SWV, Xscape, Blaque, Changing Faces, Total and Maia Campbell.