Tina Turner's Life In Looks Let's Us Know We Don't Need Another Hero
Celebrating the legendary singer by honoring her life through looks. Here are some of Tina's iconic moments that had us saying, "Rock me, baby!"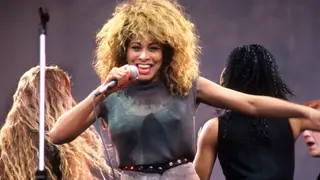 Tina Turner has passed away at the age of 83. The queen of rock and roll started her career as the lead singer of Ike and Tina Turner Revue before skyrocketing to success as a solo singer. Our auntie Tina had us rocking out through the '90s and asking questions like, "What's love got to do with it?" Today we celebrate the legendary singer with open arms by honoring her life through looks. Here are Tina Turner's fabulous fashion moments that had us saying, "Rock me, baby!"
Tina Turner Performing In Barcelona In 1990

Tina Turner shined bright into stardom in this reflective dress. The star has always been confident about showing off her legs. "I'm the last person to ask about my legs!" The legend mentioned in her book Tina Turner: That's My Life. And legs she absolutely gave in this iconic above-the-knee dress! She also added a black studded belt that accentuated her waist and honored her rock and roll status.

Tina Turner On Pearl And Bailey In 1971

The legend had us all in a disco inferno with this two-piece sexy look. She rocked a beautiful crystal bralette with crystal tassels that followed her every move. A tight mini-skirt was perfectly aligned with the singer's bralette. The white skirt was embedded with a crystal lining, highlighting the legendary singers' legs. Finally, the look

Tina Turner Oakland 1985 San Fransico Art Exchange

Denim has returned, but Tina was "that girl" rocking denim before it was a big hit. She wore this casual denim jacket over black leather mini dress to perform at the Sanfransico Art Exchange. Tina always added a hint of fun to her fashionable looks, embodying her personality. The star added what seemed like military buttons onto her denim jacket. These same buttons can also be found on the singer's edgy dress.

Tina Turner Spreading Her Wings 1977

What's love got to do with this look? Well, we're glad you ask! This iconic 1977 look symbolizes Tina spreading her wings after divorcing Ike. This was the legend's way of introducing us to the "new Tina" as she entered a new chapter in her life. Bob Mackie was behind the singer's new sexy look. He often worked with Tina throughout her career. Although she now has a new set of wings, this look solidified Tina was ready to fly to new heights.

Tina Turner - A True Lady In Red

Tina often wore red. She was the queen of red lipstick and loved to wear dresses during her concerts. Her red dresses typically followed the same aesthetic: short, bedazzled or leather, and bold. This little red number was no exception! She wore a very short leather red dress with her iconic rock and roll spiked hair. The look was paired with a bold red lip. Who knew a little red dress would make it all the way to Broadway? Adrienne Warren wore the iconic dress when she played the legend during a Broadway play about her life.

Tina Turner's Gold Fringe Moment On The Ed Sullivan Show 1970

If there's anything Tina didn't shy away from, it is a fringe moment. The icon wore this flirty fringe dress to perform on the Ed Sullivan Show in 1970. The flare of the dress was complimentary to her daring dance moves. Gold fringe swung from left to right as Tina gave us an incredible performance.