Diana Ross, Oprah Winfrey, Angela Bassett, Mick Jagger, and More React To Sad News of Tina Turner's Death
The legendary icon died after a long illness at the age of 83.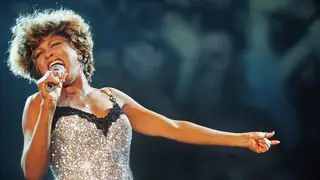 Tina Turner's voice and stage presence put her in a category all her own. She didn't just sing with unabashed passion; she rocked the stage, gliding from left to right and back again with the same energy flowing through her music. Turner wasn't just a singer or dancer. She was part of that rare breed of musician who fully entertained massive audiences across the planet. Her fans followed her every action, singing the words to her songs verbatim and rocking along with every kick and shimmy. 
After a 60-year career that earned her Billboard hits, Grammy awards, a Kennedy Center Honor and induction into the Rock 'n' Roll Hall of Fame, the woman, born Anna Mae Bullock, has sadly sung her last song. Turner died at her home in Zurich after a long illness, according to her publicist.
Her official Twitter account posted a message today that read, "It is with great sadness that we announce the passing of Tina Turner. With her music and boundless passion for life, she enchanted fans worldwide and inspired future stars. We say goodbye to a dear friend who leaves us her greatest work; her music. Tina, we will miss you dearly."
Several celebrities and other notable names have sent messages of condolence through social media after the news broke today. Academy Award-nominated actress Angela Bassett, whose epic portrayal of Turner in the 1993 biopic film "What's Love Got to Do with It" issued a statement, which in part read:
"Her final words to me - for me - were 'You never mimicked me. Instead, you reached deep into your soul, found your inner Tina, and showed her to the world.' I shall hold these words close to my heart for the rest of my days. I am honored to have known Tina Turner. I am humbled to have helped show her to the world. So on today, while we mourn the loss of this iconic voice and presence, she gave us more than we could have ever asked. She gave us her whole self. And Tina Turner is a gift that that will always be "simply the best." Angels sing thee to thy rest…Queen."
Here are a few of the other heartfelt messages: