Young Dolph Has Been Released From The Hospital
The rapper was hospitalized for two weeks.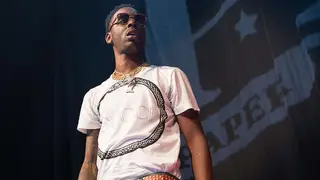 Memphis rapper Young Dolph is on the road to recovery. Two weeks after sustaining multiple non-life threatening injuries in a Los Angeles shooting, the rapper has officially been released from the hospital.
Dolph took to Instagram celebrating his release. He boasted, "Shout out to 'Pac, shout out to Eazy-E, shout out to Biggie. I know they ain't think it was over with!"
Young Dolph was shot outside The Shoe Palace at the intersection of Hollywood and Highland in Los Angeles following a scuffle with a group of men. Cory McClendon, an associate of Yo Gotti, was arrested on suspicion of attempted murder but was since released without charges being formally filed.
The rapper is slated to release his Thinking Out Loud album on Friday, October 20.