White Privilege In Action! Teen Who Buried Her Baby In Backyard Seen Out To Dinner At Restaurants
"How is someone who is awaiting trial for aggravated murder not in jail?!"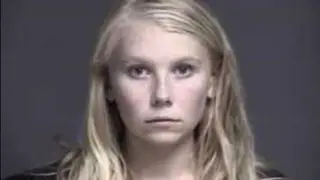 The white Ohio teen who is accused of killing and burying her newborn baby is getting crucified on Facebook by people in her neighbors who believe she should be in jail instead of modified house arrest while awaiting her trial.
Brooke "Skylar" Richardson, 19, was charged with aggravated murder in 2017 after her baby was found decomposing near her family's barbecue pit, reported Associated Press.
In August 2017, Richardson, of Carlisle, pleaded guilty to her charges. Last month, a judge placed her on house arrest and ruled the teenager would have to observe a curfew while awaiting her trial.
As neighbors in Richardson's community have spotted the teen, they've taken to Facebook to voice their anger, the New York Post reported.
"My husband and I saw the teenage girl from Carlisle who killed and buried her own baby," a social media wrote on a community Facebook page. "She was at the restaurant we were at, talking on her iPhone. How is someone who is awaiting trial for aggravated murder not in jail?!"
Two Facebook groups have been dedicated to Richardson's case and many Carlisle residents have posted videos, photos, and disparaging remarks about the family. 
The county prosecutor trying the case has argued that Richardson may have killed the baby to maintain her family's perfect appearance.
"Skylar and her family, particularly her mother, were pretty obsessed with external appearances and how things appeared to the outside world," Warren County Prosecutor David Fornshell.
"You have a situation where, you know, she's a cute high school graduate."
However, Richardson and her defense team have claimed the baby was stillborn.
Prosecutors requested a $1 million bond, but the judge set bond at $50,000 with house arrest and electronic monitoring. She posted the bond and was released.
Richardson's trial was on hold as an "appeals court rules on a medical testimony dispute." Her trial could be pushed back by as much as eight months.