Megan Thee Stallion Announces Fitness Challenge And Diet With No Sugar To Kick Start Her Hot Girl Semester
She has one tip to stay fit that's VERY on brand!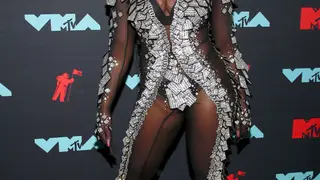 Being a Hottie takes some maintenance! Fresh off her Hot Girl Summer, Megan Thee Stallion is putting herself, and her fellow Hotties, to the test with this rigorous 7-day Fitness challenge!
As any thick girl or "stallion" knows, being curvy doesn't mean you don't have to put in work at the gym. With Meg making sure we were all twerking, driving the boat, and living a carefree  summer, we may have slipped on some of our fitness goals. But don't fret! Meg is ready to help us all bounce back with her recent 7-Day Hottie Challenge.
Meg captioned her photo, "Day 1 hottie camp! We doing a 7 day challenge hotties ! -no bread, no sugar, no fried food, a gallon of water a day. Don't forget to get it in !!!" Now, this is a fitness challenge you have to mentally prepare yourself for!
And we aren't the only ones who think so either! SZA commented on the photo saying, "A GALLON ?? Tuh !!," while comedienne Jay Cole, who was also featured in the 'Hot Girl Summer' music video, commented, "NO BREAD!!!!!??? OMG wtf I'm suppose to eat then sis????"
With Megan Thee Stallion basically being the compass for how we live our lives at this point, we are definitely going to follow suit and try our best to follow her 'Fit Girl Fall' regimen!