Hottie!: Jordyn Woods Braves The Cold To Set The Internet Ablaze In A Sheer Black Catsuit
Plus other moments with the model.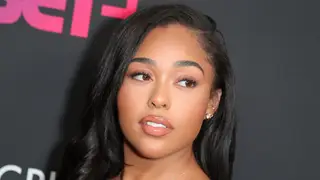 Check Out Jordyn's Comeback Style That Has The Internet Screaming #TeamJordynWoods: 
Jordyn Woods Braves The Cold To Set The Internet Ablaze In A Sheer Black Catsuit!

Jordyn Woods is letting the girls know that she is not one to play with. The model stepped out rocking a sext velvet and sheet catsuit, leaving very little to the imagination. Jordyn is serving hottie vibes in this look and we're not mad at her!

Jordyn Woods Is Looking Good In This Fendi Swimsuit!

Jordyn Woods is keeping the girls on their toes. The model recently shared a spicy pic on Instagram rocking a sexy Fendi swimsuit while posing on her custom brown Ferrari. We love to see it! 

Jordyn Woods And Her Sister Look Like Twins While Rocking Matching Yeezy Shades!

Jordyn Woods and her teenage sister Jodie gave serious twin vibes while rocking new chrome Yeezy Gap sunglasses. We love to see sisters match each other's fly!

Jordyn Woods Shows Off Her Curls While Vacationing In Hawaii!

Jordyn Woods' curls are popping! While vacaying in Hawaii, the model and fitness enthusiast snapped this island snapshot of herself living her best life. "Hawaii was [the] most relaxing way to end our trip. Island me is the best me," she captioned the photo.

Wedding Vibes!

Jordyn Woods and Karl-Anthony Towns have been jet-setting across Europe for the past month and they are looking good while doing so. The lovely couple recently attended a friend's wedding in Italy and wowed with stylish looks. Jordyn wore a floral strapless dress while her beau rocked a classic suit. We love to see it! 

Jordyn Woods Enjoys A Romantic Evening With Her BAE In Paris!

Jordyn Woods is living her best life in Paris! While visiting the romantic city with her BAE Karl-Anthony Towns, the model took the opportunity to snap a few fashionable photos in front of the Eiffel Tower. We are loving her sleek black mini dress and beautiful blonde tresses. It surely looks like the couple enjoyed their trip!

Jordyn Woods Announces Her New Playboy Partnership.

Jordyn Woods is booked and busy! The influencer recently announced a new partnership with Playboy. In the photo, Jordyn is rocking a flirty ruffle two-piece set and honey blonde tresses. We can't wait to see what this partnership is all about!

Jorydn Woods and Friends Take A Girls Trip To Dubai!

Jordyn Woods and her best girlfriends enjoy '48 hours' in Tulum. The ladies hit the hot spots and posed in matching swimsuits and sun hats. They look as though they had a wonderful time! Can we go next time??

Jordyn Woods and Karl Anthony Towns Celebrate Their Two-Year Anniversary!

Jordyn Woods and her boyfriend, Karl are celebrating our two years together. The lovely couple spent the weekend at a historic resort in California and KAT surprised Jordyn with an entire wardrobe and photoshoot. Can we say, #couplegoals! 

Jordyn Woods Shows Off Her Natural Hair And Bikini Body In Sultry New Poolside Photos!

Jordyn Woods has us counting down to our vacation days after posting these poolside photos on Instagram! Take a look at how our good sis is living her best life in LA.

Jordyn And Jodie Pose In Matching Sweatsuits And Balenciaga Bags

These sisters are a whole mood! Jordyn and her baby sister Jodie posed in sweatsuits and matching Balenciaga bags. How cute!

Jordyn Shows Off Her Snatched Waist In This Tiny Bikini!

Jordyn Woods shows off her perfect curves in this tiny colorful bikini. The socialite is rocking a $40 bikini from Fashion Nova. Sis is looking good!

Jordyn Woods Documents Getting A Lymphatic Drain Massage!

Through an Instagram reel, Jordyn Woods invited her 12.4 million Instagram followers to see the self-care hack she uses to maintain her health. "Come with me to get a lymphatic drainage massage," the 24-year-old captioned the post. 

In the video, the model showed herself receiving a lymphatic drainage massage, a treatment that helps to improve blood circulation, flush toxins, and regulate water retention. Check out the results!

Boo'd Up!

Jordyn Woods hid a photo in her boyfriend's bag months ago and he just found it. NBA player, Karl-Anthony Townes shares a pic of the polaroid to Instagram and couldn't help but swoon over the sweet image. We love it! 

2022 NBA All-Star Game!

Jordyn Woods and Karl-Anthony Towns love to match each other's fly. While in Cleveland for the 2022 NBA All-Star Game, the couple snapped a few photos showing off their matching fur coats from Daniels Leather. "Thanks for your valuable insight in designing these two masterpieces," the luxury outerwear brand commented on the Instagram post.

Life Is Gucci!

Jordyn Woods wants fans to know that Life Is Gucci—and her relationship is even better! The busy influencer and her baller BAE Karl-Anthony Towns recently took a trip to Portland, Oregon, fans cannot stop swooning over the PDA moments. Oh, how we adore Black love!

Three Generations

Jordyn Woods shares a gorgeous photo of three generations of women in her family. Her mom, grandma, and little sister Jodie Woods are all simply stunning in this family portrait. We clearly see where Jordyn gets her gorgeous looks from! 

Jordyn Woods Sizzles In A Sheer And Sultry Catsuit!

Jordyn Woods is blessed, unbothered, and looking her best! Recently, the busy socialite snapped a series of photos showing off her curves in a sheer and sultry catsuit ($311) by Poster Girl. "New year, best me," she captioned the sexy snapshots. What a way to bring in 2022! *claps in approval*

Jordyn Woods Gets All Dress Up In A Chic Pantsuit!

Jordyn Woods is really giving us the business in this nude pantsuit, featuring a built-in corset. The fashionista accessorized her look with Louis Vuitton's Petite Boite Chapeau Monogram bag and stylish cream-and-gold braided sandals. Yes, ma'am! 

Gettin' Fit!

Jordyn Wood is showing us that she's about that fitness life. The socialite recently shared a selfie revealing her budding 6-pack abs. We love her transparency regarding her weight loss journey. 

Real Love

Jordyn Woods and Karl Anthony-Towns are living their best life. The Hollywood couple recently shared a little more about their relationship with GQ for their  Couples Quiz series. They are very private, so it's cute to learn about them. 

Living My Best life

Jordyn Woods is booked, busy, and unbothered. The influencer shared a series of sultry photos to Instagram rocking a sexy brown sheer dress by Poster Girl. The $200 dress is currently sold out in brown, but you can get a different color here! 

Date Night!

Jordyn Woods and her boyfriend Karl Anthony-Towns know how to do date night. The lovely couple attended 'Horror Nights' haunted house and shared photos on Instagram. Jordyn stunned in a brown blazer while Karl wore a blue hoodie. They are such a stylish duo!

No Lashes...

Jordyn Woods recently forwent her signature lengthy eyelash extensions in exchange for her naturally flirty lashes. In the caption of the Instagram photo, the 24-year-old beauty asked her 12M IG followers what they thought of her look without lashes. 

Of course, she was overwhelmingly met with positive comments praising her natural beauty. She's flawless!

Birthday Photos!

Jordyn Woods is officially 24! Celebrating her birthday all week long, the fashionable model chose to conclude her fun-filled countdown with a series of sultry photos, photographed by Jacob Webster. 

In behind-the-scenes footage of the photoshoot, captured by videographer Jay Ford, the birthday girl seemed to be enjoying her best life as she posed in a custom look by Natalia Fedner and Mahrukh Akuly pearl jewelry. 

Living Lavish

Jordyn Woods is living lavish. The influencer recently celebrated her 24th birthday with a party surrounded by family and friends, including her boyfriend Karl Anthony Towns. The highlight of the night was Jordyn receiving a diamond Patek Philippe watch and a rare Hermès Birkin bag from her beau. How sweet!

Birthday Tings!

Jordyn Woods is turning up for Libra season! Over the weekend, the fashionable socialite enjoyed an early celebration for her 24th birthday and we're getting a behind-the-scenes look at her fashion and beauty prep.

Before partying it up with her close friends and family members, the lady of the hour snapped a few photos showing off her birthday 'fit by AREA. Nope, your eyes do not deceive you. Check out Jordyn's barely-there chain link mini dress, featuring thousands of shimmery crystals. Absolutely stunning! 

Red Hot!

Jordyn Woods shared some behind-the-scenes footage of a recent photoshoot, where she wore a fiery red flowing dress. The socialite and model elevated the look with complementing elbow-length patent leather gloves and a wrist full of gold Cuban link brackets. We love this look and can't wait to see the final shoot!

The Transformation!

Jordyn Woods has been very candid about her weight loss journey. So much so that the model has created a successful street-chic fitness brand, Secndnture, which she often wears when highlighting her workout routines on Instagram. 

Celebrating her body transformation, the 23-year-old socialite recently posted this before-and-after photo. "I look back and have to realize I came a long way and it didn't happen overnight! I can't even believe I'm posting this but this is really me and this is my journey. Hopefully this can inspire some of you! It all started with a lot of mental and emotional work and the physical came with it. We all start somewhere," she captioned the image on social media. 

Sexy Mami

Jordyn Woods is heating up the summer in these sexy looks. The 23-year-old influencer shared a new pic to Instagram rocking a curve-clinging, cut-out mini black dress that left us speechless. 

She looks comfortable and exudes beauty in this dress and we are here for it! The little black dress is by IAMGIA, and costs $55. The cut outs are in the right place, and it's hugging her curves perfectly. Jordyn styled the look with $1.5K Rene Caovila heels and hair styled half-up and down. 

Keep the sexy looks coming, sis!

Fitness Goals!

Couples who get fit together, stick together! Jordyn Woods and Karl-Anthony Towns instantly created #CoupleGoals when the pair flaunted their desirable gym gains in new Instagram videos. 

"We told each other we were gonna get in the best shape of our lives and that's exactly what we're doing," the model wrote on the post. She went on to encourage others to get out and move with this thoughtful note: "Never forget it all starts with your mind!"

Heating Up The Summer!

Jordyn Woods continuously flaunts her excellent style! While enjoying a night on the town, the California-born beauty showed off her picture-perfect curves in a sheer Naomi Set ($259) from With Jéan's Flamboyant Anthurium collection. 

"Look for magic in every moment," she captioned the lookbook photos. So stylish! 

summertime fine

Jordyn Woods is on vacation with her girls and sis is a whole mood. The socialite shared pics flauntoing her perfect curves while on vacation in the tropics. Jordyn is wearing a blue metallic bikini and her blonde braids are slayed.  "I'll be here for a min.." read her caption. We are loving her look!

Summer Vibes!

Jordyn Woods is servin' up body-ody-ody on the beach! While enjoying a day by the seaside, the model and socialite snapped a few photos flaunting her eye-catching curves and sexy peach in a tiny black bikini. Take a look at the Instagram photos, above! 

Date Night!

Jordyn Woods and her NBA boyfriend Karl-Anthony Towns enjoyed a romantic date night at a Spotify music event in LA.

The lovely couple posed for the camera looking fabulous. Jordyn wore a black cut-out outfit, while her beau wore jeans and a pair of Travis Scott Air Jordan 6's. "date night," read her caption. 

Aren't they a fly couple? We are here for it! 

Jordyn Woods shows off her bikini Body!

Jordyn Woods has been servin' up body-ody-ody while on vacation! During a lovely couple's stay in St. Lucia, the busy model and socialite snapped this photo showing off her bikini bod in Monday Swimwear. Just look at how her Zebra print two-piece clings to her sexy curves. 

Fight Night

Jordyn Woods is serving up hotness while in Miami for the Floyf Mayweather vs. Logan Paul Fight. The actress wore a black cropped top and sparkling wide leg pants. She wore her hair styled into a perfect bob and carried a mini studded Prada bag. We are loving her fight nightt style. She is a total knockout!

Jordyn Woods Shows Off Her Perfect Curves In this Lime Green Bikini!

Jordyn Woods is reminscing about her luxe anniversary vacation in paradise. The 23-year-old model, shared a series of pics to Instagram wearing tiny lime green bikini, and we are speechless! "Bittersweet," read her caption. Jordyn's skin, hair, and curves are flawless!

Karl Anthony-Towns gifts Jordyn Woods a $100k Hermes Birkin bag!

Jordyn Woods and Karl Anthony-Towns are celebrating their first anniversary together in paradise! The couple chose to travel to the Caribbean Island of Saint Lucia to mark the momentous occasion. 

"Pinch me, I'm dreaming…," Jordyn captioned a photo dump on Instagram. "Expect lots of these this week." 

Besides pictures of her beach body, the splendid scenery, and dozens of pink balloons, the social media post also displayed the $100k Hermes Birkin bag the basketball star gifted his girlfriend. Pricey! 

Here's to wishing the pair many more years of happiness! 

Pretty In Pink!

Jordyn Woods is heating up the internet with her sultry pink cut-out dress. The model took to Instagram Friday night to share a few pics from her date night with her NBA boo, Karl Anthony-Townes. Jordyn wore her hair styled in beach waves unit and carried a green chanel bag. She is serving up hotness in this look!

Celebrating Mom In Style!

Jordyn Woods looked amazing while enjoying an outing in celebration of her mom's birthday. Dressed in a leopard-print Balmain suit, the oldest daughter of Elizabeth Woods definitely showed up and showed out with her designer fashion. Looking good, sis!

Twinning with Bae!

Jordyn Woods and her boo, Karl Anthony Towns enjoyed a lovely date night at the Aquarium. The adorable couple enjoyed a private tour at the aquarium and sported matching kicks. 

The 23-year-old model and her beau wore the Union Air jordan 1's that are no reselling for $3K. We are loving their twinning moment!

Reorganizing Her Extensive Sneaker Collection!

Like most Americans during the pandemic, Jordyn Woods is taking advantage of her extra downtime to reimagine her at-home lifestyle, including reorganizing her extensive sneaker collection.

Enlisting the help of professional organizer and interior decorator Janelle Cohen, the stylish socialite recently took to Instagram to post behind-the-scenes footage reorganizing her sneaker closet.

A glimpse into her luxe closet!

Jordyn Woods is giving fans a look inside her luxury closet filled with the best in designer threads and expensive accessories. 

In the at-home photos posted on Instagram, the fashion influencer and model is rocking a patterned curve-hugging dress, along with a neck filled with diamonds. Quite noticeably in the background, a floor-to-ceiling shelf held five Birkin bags that typically retail for about $40K each. 

If that's not enough to leave you dumbfounded, don't even get us started about her pricey footwear collection. So luxe! 

Twinning With Bae

Jordyn Woods and her NBA star boyfriend Karl Anthony-Towns are taking their relationship to a new level, and their coordinating 'fits prove it! 

Take a look at this adorable couple's photo showing the 23-year-old model rocking the same grey sweatpants as her beau. 

Definitely an Instagram-worthy moment!

Date Night

Jordyn Woods had a date night with her boo, Karl-Anthony Townes and looked very zesty. The social media influencer was spotted wearing an orange fishnet mini dress by Maisie Wilen ($610) with black heels and carrying a matching orange Birkin bag.

ICYMI, Jordyn's boo gifted her the croc birkin for her 23rd birthday a couple of weeks ago.


Living Her Best Life

Jordyn is still on vacation for her 23rd birthday and posting Instagram. The social media model posted a risqué photo posing topless in an outdoor shower. Her caption read: "His view." It looks like Jordyn and her boo Karl-Anthony Towns are enjoying thier vacation!

Versace, Versace, Versace!

Jordyn Woods and her boo, Karl-Anthony Towns have been living it up on their Mexican vacation celebrating Jordyn's 23rd birthday.

Recently, Jordyn posted a photo to Instagram of herself and Karl hugging on the beach. The young couple looked blissful while wearing matching Versace swimsuits. She captioned the flick: "I found you, then I found me." Not ashamed of freely expressing herself, she followed up with, "I said what I said." 

It looks like Karl-Anthony is bringing out the best in Jordyn. It's beautiful to see! 

Birkin's for my birthday

Jordyn Woods has been basking in the sun for the past week celebrating her 23rd birthday. Well, thanks to her new boo, NBA player Karl-Anthony Towns, her birthday got a little better. 

Karl-Anthony gifted Jordyn two Hermès Birkin bags, a Chanel bag, Air Jordan sneakers, and a signed Jordan jersey. Jordyn also had a Michael Jordan-themed dinner and cake designed like an Air Jordan sneaker. In case you were wondering, the Jordan-inspired bash was a nod to the famous "23" number the iconic basketball player wore as a Chicago Bull — which coincides with Jordyn's age.  

It looks like she celebrated her "Jordyn Year" in major style!

Birthday Suit!

Jordyn Woods is celebrating her 23rd birthday in major style. 

The social media star is living it up in Los Cabos, Mexico on an exotic vacation and posting all about it. Jordyn took to Instagram to share a photo of herself in a pool wearing a $400 Versace swimsuit lounging on a Versace pool float. 

We hope Jordyn has a very happy birthday! 

"Heir Jordyn"

Jordyn Woods kickstarted her birthday weekend with an "Heir Jordyn" party to remember! Playing off the fact that she's turning 23—the iconic number of NBA legend Michael Jordan—the birthday girl surrounded herself with red, black, and silver décor, along with plenty of themed merch on Sunday.  

"It's the details for mee," she shared on Instagram. "I warned y'all about this week...it's my golden year! 23 on the 23rd." 

If her sexy red bikini is any inclination of what's to expect, we have a feeling that Jordyn is poised to set the internet ablaze with her birthday celebrations. 

#PeriodChallenge

Jordyn took the #periodchallenge in a custom barely-there knit dress by Bailey Prado. This period't moment was captured by photographer: @joshuarenfroe_.

Mini Vacay In Napa

Jordyn Woods was completely unbothered as she spent the weekend in Napa. While sipping on fresh wine and touring the California vineyards, the 22-year-old snapped this photo wearing an adorable floral ruffled two-piece. 

Yes, sis! That's how you live your best life! 

Sending A Memo!

Jordyn Woods is sending out a memo for those wondering how she's living during the quarantine. 

Photographed living her best life—despite news that Kendall Jenner was reportedly hanging out with her ex NBA star Devin Booker—the stylish model recently posted this photo dressed in a head-turning, white fitted mini dress.  

"I'm so indecisive you can't cuff me but I'm wifey," Kylie Jenner's former bestie captioned the Instagram photo.

Looks like our girl is completely unfazed while social distancing. A mood!

Catching Some Sun Rays!

Jordyn Woods is living her best life despite being quarantined! 

Recently, the 22-year-old model opted to spend her day lounging by the pool in a peach-colored bikini. Photographed looking carefree and relaxed, Jordyn seemed to be in good spirits as she caught some sun rays. 

What a perfect way to get over the feeling of being cramped indoors all day!

Haute Like My Mama!

Jordyn Woods is at home in quarantine reminiscing on fun nights out with her mom.

The 22-year-old influencer posted a series of photos to her Instagram page in honor of her mother Elizabeth Woods' birthday, including a photo of the mother-daughter duo at a strip club. Her caption read:

"We do this thing called life really well together, from taking you to your first strip club to birds pooping on me in Dubai and accidentally flinging it on you😂 I probably should've kept those stories to myself... to being 25 forever! I love you forever @elizabethwoods"

Elizabeth responded to her daughter's celebratory post in the comments writing, "Ok make me cry and laugh with this, love you!! Blessed and highly favored to do life with you."

We love Jordyn and her mom's relationship! Their love for one another shines brightly! 

Living It up In Abu Dhabi!

Jordyn Woods has been living her best life in Abu Dhabi. A recent work trip has turned into an unexpected vacation for the 22-year-old reality star. Joined by her mother and younger sister, Jodie, Jordyn has posted a series of photos to her Instagram looking stunning in designer dresses with accessories to match.

We're not sure how much the pieces cost, but we're glad that Jordyn and her family are taking advantage of their extended stay.

Birthday Behavior

One time for the birthday chick!

Jordyn Woods is enjoying life with her loved ones, as she brings in her 22nd birthday. She is looking happy and health as ever, showcasing bawdy and we must shoutout her hype-woman Lori Harvey!