Cardi B's Hairstylist And MUA Break Down The Details of The Rapper's Hair And Makeup From The Grammys
The rapper's luminous skin and super sleek ponytail elevated her designer outfits.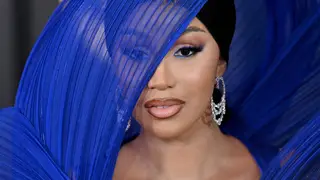 While the Grammys often promise a night of good music, many of us are also watching to see what the celebs are rocking, including their clothing, hair, and makeup. This year for the 2023 Grammys, one of our favorite looks of the night came from rapper Cardi B.
We could wax poetic about the beauty of the form-fitting, sculpted cutout electric blue gown from designer Gaurav Gupta—who recently debuted at Paris Fashion week—that she wore on the carpet. However, her eye-catching makeup and perfectly laid hair are not to be ignored.
Luckily, we got the deets about her hair which celeb hairstylist and wigmaker Mia Jackson styled, aka Tokyo Stylez, and the products celebrity makeup artist, Erika La' Pearl, used to make her skin look luminous.
For her, all over glow La' Pearl applied a coat of  SOL By Jergens Sunless Tanning Water Mousse in Deep, which she suggests you leave on for at least "six hours before rinsing." This product is the perfect way to look sunkissed year-round without exposing yourself to the sun's damaging rays.
Peeking out from beneath the sculpted halo effect of the hooded gown were the rapper's lashes by Real Fluffy 01 which were enhanced by FetishEYES Mascara from Pat McGrath. The full details, from blush to eye pencil, eye shadow, and application tips, are detailed on La' Pearl's Instagram page.
Being the true clothing chameleon that she can be, the rapper switched things up when she presented the award for Best Rap Album, which went to Kendrick Lamar for "Mr. Morale & the Big Steppers." Her dress, made of pointy reflective strips, was the perfect homage to the designer Paco Rabanne who died the Friday prior to the 65th Annual Grammy Awards.