South African Fashion Designer Lukhanyo Mdingi Wins $100,000 Amiri Prize
The prize also includes a year-long mentorship program.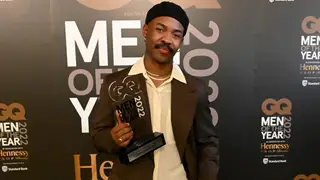 On Monday (Oct.31), the South African fashion designer was awarded the 2023 Amiri Prize, as reported by Vogue Business. The honor includes a $100,00 and a year-long mentorship.
"Mentorship is something that is truly invaluable," Mdingi told the outlet. "Entering the prize felt like an opportunity we wanted to lean on. I'm so thankful we did because it led to us winning and being in a position to utilise the mentorship."
Mdingi established his namesake brand in 2015 after studying fashion design at Cape Peninsula University of Technology in Cape Town. He won over the judges, including Puma creative director and designer June Ambrose and image architect Law Roach, with his collection of tactile pieces curated in Africa.
"We were immediately impressed by Lukhanyo's distinct and considered vision and commitment to working with local South African artisans," said Mike Amiri, founder and creative director of fashion brand Amiri, which launched the award in 2021.
"This notion of artisan collaboration and community celebration resonates with our own ethos and sensibility. There's an intimacy and authenticity to Lukhanyo's work, translating a rich history of craft-making within a contemporary, mindful spirit."
In 2022, Mdingi partnered with Saks Fifth Avenue. After winning the Amiri Award, he wants to strike gold in the US.
"There seems to be a strong celebration of Black emerging designers, and that is something I want the brand to continue to be a part of," he noted.
Still, he acknowledges the risks that lie ahead between manufacturing standards in Africa and the West.
"Coming from South Africa it's just completely different, even from a seasonal aspect of things," he explained. "We are a South African brand that is trying to work in a way that is conducive to creating a sustainable and profitable business. I'm curious to explore how to marry having an international sensibility while also working and distributing internationally in accordance with how our business works [in] South Africa."