Interview: 'Rap Sh!t's' Jonica Booth Talks Ditching Reality TV For Scripted
Jonica Booth explains how she went from 'Bad Girls Club' to 'Rap Sh!t' even after bombing her first major audition.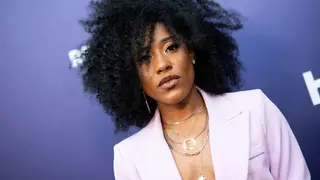 Jonica Booth made her intro to the world on Bad Girls Club season 12, where she developed a reputation as a laid-back tomboy lothario. She had a knack for making people fall in love with her, which obviously came with some drama. However, since then, she has shifted gears and moved away from reality TV. The St. Louis native landed in LA in 2017 after two years of living in Atlanta, to fully pursue her dreams of acting.
"I did a few small things in Atlanta like an indie film or some commercials, but I realized it was Black Hollywood and I wanted to be Black in Hollywood. And when I got here, I set a different goal to reach by the end of each year," Booth tells BET.com. "I knew I could always move back home. I have my degree so I could get back in corporate America  if I had to survive."
Booth's goals escalated from landing a local commercial that paid $4,000 to landing a national commercial and eventually becoming a series regular. The latter dream came true last year when she began filming HBO's Rap Shit!, an Issa Rae production about two up-and-coming rappers based in Miami. On Rap Shit! Booth plays Chastity, a slick-talking pimp on the come-up. It was not a role that came easily to Booth, who shared the funny story with BET.com. Here, she explains why she left reality TV and how she went from not feeling like acting was possible to realizing her dreams.
BET.com: Rap Shit! Is a great look for you but a lot of people may recognize you from Bad Girls Club. Did you do Bad Girls Club because you wanted to get your face out there because you wanted to act?
Jonica Booth: Absolutely not! If I knew I wanted to be an actress then I probably wouldn't have taken the reality route. Once I got older and realized that I wanted to be an actress and get into the industry, I denied all reality offers because I didn't want to be a reality star. I want to be an actress and it's hard to get respect coming from that to this. This industry will teach you everything isn't about money because I've had no money then and I was turning down reality money because I knew that if I waited then I would get what I wanted out of life.
BET.com: So when did you realize that you wanted to be an actress and what steps did you take to pivot in that direction?
JB: After I did reality, I started traveling, hosting, and things of that nature and I knew I wanted that at a different level. I've always looked at movies and I've always looked at shows — when I first saw Love and Basketball, I was like, I can do that. That's really what I thought when I first saw that as a kid but I never told anyone because I didn't think it was possible. Because I'm from St. Louis, and where I come from, you don't hear about your peers being actresses or anything. You just hear about whatever jobs are around us. So, I thought people would laugh at me if I said I wanted to be an actress. So I left it alone, and then when the opportunity to go on Bad Girls Club presented itself, I was like, I get to go on TV, ok!  But once I got the opportunity to move to LA, I knew I was supposed to be doing something else. I felt like acting was my path, so I started doing comedy, and stand-up. It's one thing to have these dreams when you're in a smaller place but to have these dreams in a place where everybody's dreaming, It feels possible. And it's like Jonica, you did the hard part, you left and came here, so chase these dreams. I did stand up and I was like, I could be an actress, let me get some acting classes. So I got some acting classes and that's how that started happening.
BET.com: Let's backtrack to stand-up comedy because that's not easy. What were the early days of you doing comedy like?
JB: I met the dopest people. Lisa Sundstet with my teacher. She taught me so much about comedy, but I knew that my comedy, I'm not like other comedians. Where I come from, they just go and get on stage. But my class was so put together that the owner of the Lakers was in my comedy class. It was probably about eight to 10 of us and the owner of the Lakers was in my class too. She wanted to get comfortable on stage during her speeches and we are friends to this day. But early on was probably easier because I didn't have to get that grunge. I didn't have to go to a show and try to get these people to like me. My first show with all of our friends and family from the class. Then I went and did some bigger shows like Laugh Factory, the Comedy Store and it was different. Thank God, I didn't bomb but I realized that my storytelling was just different and I started doing what was comfortable for me. It's nerve-wracking, there's anxiety too.
BET.com: Especially now with so much sensitivity.
JB: It's hard. I don't want to offend anybody and that's the hard part because back then we could say words that we can't say now that are offensive.  I was watching a movie and it was about transgender women. And I told my friend that it was about trans and she told me I had to say trans women and that saying trans alone wasn't completing the sentence. So, I'm learning. There needs to be a rule book or they need to teach people this in school.
BET.com: That education could be part of your routine.
JB: Right! I'm in it. I'm the b of LGBT and there are letters after mine, and I still have to go learn those other letters because just because I'm in the community doesn't mean I know. They just think just because you're gay you're supposed to know these things and I'm like, this is new.
Everybody's not trying to offend. And when you're talking to old people, like me when my grandmother found out I was bisexual she called me a bulldagger.
BET.com: Not the old school!
JB: But she did not say it like it was a bad thing. She said, "I had a sister that was a bulldagger and I love y'all just as much," and I'm like, I think you can just accept me and not say that [laughs]. But the new generation would eat her alive for saying that. I cut my granny some slack though.
BET.com: On that note, what would you want to see more of when it comes to queer representation on TV and in film?
JB: We need queer representation because so many people identify. Everybody wants to see somebody who looks like that. The whole Ariel being Black situation is a big thing, people were mad but it's like, now more people can see themselves in that character. Everyone wants to see themselves so we need that.  I commend the writers of Rap Shit! For bringing my character to life because they normally show gay women and lesbian women in a relationship off the rip. It's like that's the only thing that identifies us as gay is seeing us with a lover. So I love that they went the whole season of Rap Shit! without doing that. Now, you might get a little more during season two, who knows but I loved that they showed who she is as a person and that who she sleeps with doesn't define her. So it's so important to just have more diversity on TV. I would also love to see more transgender roles. I've actually gained knowledge from watching shows and movies with different types of people.
BET.com: Speaking of Rap Shit! You've talked about how you bombed that audition so how did you actually score the role?
JB: I bombed but I had to go overtime for that one. When I first did the audition, I went in as Jonica. I had my hair pulled up like a little ponytail,  I had a jersey on. I just looked like a cute little tomboy, that's not Chastity. Chastity is not a cute tomboy. She doesn't shave her legs. Jonica shaves. I ended up bombing and didn't hear anything from them and I was like, I thought that I did good enough to at least, get a callback and that was me being full of myself so I end up dm'ing the casting director and I dm'd Issa Rae. What's funny is, Issa didn't see it until after I booked the role. It's a process. The casting director's job is to look through all the auditions and decide who to take over there. I didn't even get over there. So I sent the DM to them about a month later. We auditioned in early December and in January, I was thinking about it. I'm like, I sent the DM popping my stuff or whatever, like, you know, I could at least got a callback. It's cool. Don't worry about it. They better be better than me, though. I was talking that talk but the next day my manager said I got a call back for the audition I did in December. I panicked because my manager didn't know I sent that message so I thought maybe I should unsend the message but my friend said that someone saw it by now so unsending wouldn't do anything. So they gave me notes and they allowed me to do another self-tape but this time I put that work in. I studied the character. I wrote down who I think she is, what she eats, and her daily routine. I was trying to really become this character and went back, did another audition tape and it was literally night and day between that and my first audition.
BET.com: That's a beautiful story. So with this being your first major acting role, what are some things you learned from your experience on set?
JB: I learned to value people's time, and playing sports got me into that mindset. I didn't want to be the late person. I didn't want to be the person that didn't know my lines, and you really realize that there are people here working harder than you. When I get to set at 6 am, there are people there who have been there since 4. The crew had to set up before me, so just make sure you respect people everywhere. I learned to just be ready so you ain't got to get ready and you learn to not complain because you don't have time to complain because in the time you're complaining, you could be learning what needs to happen. So, it puts you into a position where it's time to show up and if you're not ready, you better get ready to accept the challenge. Being on set with Isa is definitely a vibe. She makes you comfortable with the way she has it set up and she makes you feel appreciated and like your job is important. So I loved that, I love that her teaching comes from her example versus what she's talking about.
BET.com: And season two is confirmed, right?
JB: We got a season two. I'm excited. I knew it was a blessing because some shows don't even make it out of the pilot. But it's a blessing and I need this opportunity to go and be Chastity again. I need to be his character, and I need the time and the space so that I can really focus. I'm not sure if you're aware, but my brother passed three days before we started filming [season one].
BET.com: Sorry to hear that.
JB: Thank you. It was asthma and I can't do anything about it but he would have turned 30 this year. So that's why I'm excited for season two because it gives me another opportunity. Because when my brother passed, I was still going to work and I didn't tell anybody and I'm sure if I had told Issa and Syreeta, they would have moved things around. But in my mind, that was my one shot and I didn't have time for that. So three days later we started filming, and then we all  had a two-week break. It was like I wanted to be mad at God but yet he had it all mapped out perfectly, because in the two-week break with the time, we went to bury him. When I came back,  it was just all positioned the way it should have been because I was emotionally checked out.
BET.com: I know that grief can be unpredictable but do you feel like you got to properly grieve since then?
JB: We finished filming in December and I think from January, I sat in the house for probably four months. I just sat in the house and I needed that. Some days I would feel like getting up and doing something and sometimes I just felt like existing is enough, and I just needed that time. So yes, I did properly grieve.  God kind of, I wanted to be mad at him but I can't because he's made me financially able to sit for four months and just not think, and I needed that. And now I'm ready to work and I feel like my brother is me so it's like,  now I know where you are so let's go do it. I'm excited for that.
BET.com: You seem to be good at planning things for your life and it's not often that you hear about reality stars who knew when to quit. With that being said, what advice do you have for people who may be in the situation you used to be in where they may not have been sure if they could pivot but want to at least try?
JB: It's okay to elevate. Change is cool. Don't let people project their fears on you. In order to change your route of things, you have to be okay with saying no and understand that all money isn't good money. A lot of these kids are committing suicide now and I wish I can just tell them it gets better. This isn't the end and the social media way of life moves so fast and has people thinking it's now or never. But it gets better.
Also, you're going to hear some no's but that's okay because if you hear enough no's you gotta hear a yes at some point. I took the route that was best for me and my route might not be best for you, but I just wanted to always be confident and do nothing that was degrading to me. So just have to be true to yourself because that way, when you do make it you're going to be happy about the route you took.