The Academy Condemns Will Smith's Actions, Launches Review
After last night's incident, the Oscars will explore further action and consequences in accordance with its bylaws.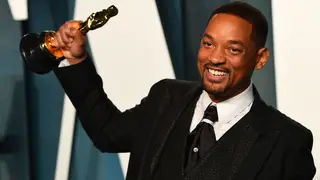 It appears that a formal review of Will Smith's internet-breaking actions will be launched by the Academy of Motion Pictures Arts and Sciences.
RELATED: Will Smith And Chris Rock: Black Twitter Explodes With Reactions

The joke touched a nerve since Pinkett Smith, whose head is shaved, has spoken profusely about her alopecia diagnosis. Rock also joked about her during the 2016 Oscars, when some were boycotting during the #OscarsSoWhite situation, and included the Smiths. At the time, Rock said, "Jada boycotting the Oscars is like me boycotting Rihanna's panties. I wasn't invited."

After Smith engaged with Rock, he sat back in his seat, and shouted at the comedian to "keep my wife's name out of your f***ing mouth." Within an hour, Smith won the award for Best Actor for his portrayal of Richard Williams, the father of tennis icons Venus and Serena Williams. It was during his acceptance speech that Smith apologized to the Academy, but not formally to Rock.
RELATED: Will Smith And Chris Rock Share Extremely Tense Moment On Oscar Stage

The LAPD was made aware of the incident, but Rock had declined to file a police report or press charges.

And the move itself divided the entertainment community, as some heralded Smith's actions for standing up to protect his wife, while others, such as writer-producer Marshall Herskovitz, called for the Academy to take disciplinary action against the newly awarded actor.

"He disgraced our entire community tonight," wrote Herskovitz on Twitter.

Whoopi Goldberg, a member of the Academy's board of governors, said Monday on ABC's The View, "We're not going to take that Oscar from him. There will be consequences, I'm sure."

For now, this is still a developing story.