Kodak Black's Response to Backlash Over His Comments About Black Girls Just Made Things Worse
SMH.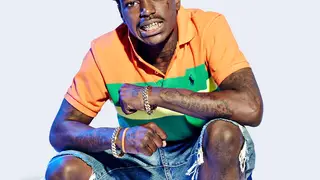 Last week, rapper Kodak Black caused a stir on social media after he took to Instagram Live and revealed that he's not into Black girls. 
Now, after sparking anger from the internet, Kodak is speaking up again, and somehow managed to make things even worse.
The original post featured the Florida emcee answering questions on Instagram Live. When one fan asked if he would date singer/actress Keke Palmer, he stated, "I'd bag her, but I don't really like Black girls like that, sorta kinda," he said.
In the follow-up explaining his previous remarks, he shows off his new diamond teeth and makes matters even worse. "I Love Black African American Women Its Just Not My Forte To Deal With A 'DARKSKIN Woman," he wrote. "I Prefer Them To Have A Lighter Complexion Than Me."
Understandably, Twitter is not responding to this latest explanation very positively, either.
Clearly no one is fighting over Kodak's favor.
See how the rapper got out of prison early with BET Breaks, above.
here's how kodak tried to do 'damage control' by clearing up his original comments:

Twitter is not reacting kindly:

One woman had the genius idea of passing him on to latinas...

...but latinas aren't interested

asian women?

that'll be a hard pass:

all of europe gave a collective 'nah' as well: