Giannis Antetokounmpo Seemingly Reveals He's Engaged to Girlfriend Mariah Riddlesprigger
The duo are parents of two and are currently expecting their first daughter.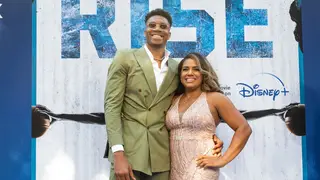 Giannis Antetokounmpo is thrilled about becoming a husband.
On Monday (September 11), while spreading the word on his advocacy for Milwaukee's Diaper Mission, the Bucks power forward hinted that he and girlfriend Mariah Riddlesprigger will be walking down the aisle in the future, as reported by PEOPLE.
"Soon [I'm going] to be married to this beautiful woman next to me," he said during a press conference.
While he was speaking, his soon-to-be wife blushed. She could also be seen wearing a ring that appears to mark their engagement.
"Our dreams becoming reality," they wrote in the caption of their post on Instagram.
In the photo, the family appears to be standing in an arena with matching outfits featuring long white t-shirts and jeans. Mom, Dad, and the kids flashed bright smiles while standing in front of a pink and blue balloon arch with the word "BABY" front and center.
Along with the wedding news, the NBA star also let the cat out of the bag that they're having a little girl.
"I know my two boys are gonna be extremely excited to meet their little sister, and protect her and spend time with her and play with her, and you know, grow up with her."
For the mom, she is elated to meet her baby girl.
When Riddlesprigger was asked how her pregnancy journey has been, she said, "I'm feeling very pregnant," while adding, "hopefully the baby comes very soon."
"I'm very excited. It's our third. Our other two boys are excited as well. We'll see how it goes," she said.
She also said that her beau has been very supportive during her pregnancy. "He's doing a great job. He gets me ice-cream when I want it and everything else."