Pelé, Greatest Soccer Player of All Time Who Helped Make The Game A Global Staple, Dies At 82
The Brazilian footballer was a teenage phenom who rose to greatness during three consecutive World Cups had been fighting cancer.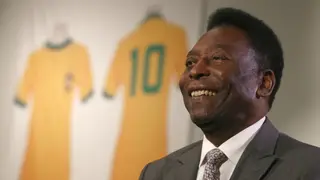 International soccer legend Pelé' died  Thursday (Dec. 29), after a battle with cancer which he had suffered with since a Sept. 2021 diagnosis, CBS Sports reported. He was 82.
His daughter, Kely Cristina Nascimento, posted an Instagram message to his account confirming his passing.
She also posted an Instagram tribute to her father in Portuguese, saying: "Everything we are is because of you. We love you infinitely. Rest in peace."

Pelé was admitted to Albert Einstein Jewish Hospital  in São Paulo, Brazil on Nov. 29 to treat a respiratory infection and to decide on how to move forward with the chemotherapy treatment he had been receiving for the past year. But doctors said his cancer had progressed and he was also dealing with kidney and heart illnesses as well.

Arguably the greatest footballer of all time, and named "Player of the Century" by FIFA in 2000. (an honor he shared controversially with the late Argentinian soccer icon Diego Marodona), Pelé has remained one of the most recognizable athletes of the last several decades, representing the most popular spectator sport in the world.
A forward for Brazil, Pelé held the Guinness World Record 1,279 goals in 1363 games in his career, and is also the all-time top scorer for the Brazil national team. He is also one of only three players to score in four World Cups and helped his team to win three World Cup trophies. He is also credited with making soccer as popular as it is around the world through his performances on the pitch between the 1950s and 1970s as a growing number of audiences in many countries were able to watch the matches on television.

Born Edson Arantes do Nascimento in 1940 in Três Corações, Brazil, he began his career playing for Santos FC when he was just 15. By the time he was 16, he had moved on to the Brazilian national team. He catapulted to superstardom during the 1958 World Cup against Sweden, scoring three goals in Brazil's 5-2 win, becoming the youngest player at 17 ever to score a goal in the global soccer championship.
With offers to play in clubs around the world, Brazil knew it had to keep him at home or risk losing the stature in football that it still enjoys to this day, so then-president Jânio Quadros had Pelé declared an "official national treasure," which in effect prevented him from leaving for at least 10 years. He did retain his position with Santos FC, allowing him to take advantage of moneymaking opportunities by playing exhibition games with other clubs around the world. Eventually he became the world's highest paid soccer player.

Injuries largely sidelined Pelé in the 1962 and 1966 World Cups, which Brazil won, then lost, respectively. But in the 1970 World Cup in Mexico, his greatness was as present as ever when he led his team through the tournament with four goals and a 4-1 finals win over Italy.

Retirement and Resurgence
Pelé chose to retire in 1974, refusing to play in that year's World Cup (whose final Brazil lost to Poland 1-0) in protest of torture by the Brazilian military. But in 1975, free of the "national treasure" limitation, he signed to play for the New York Cosmos in the North American Soccer League and played until 1977. His final match was one in which the Cosmos played Santos FC in an exhibition at Giants Stadium. He played the first half for the Cosmos (and scored a free kick) and the second for Santos, with the Cosmos winning 2-1. Afterward, he thanked the crowd in a tearful goodbye.
Although his playing days had ended, he continued his career as a humanitarian. In 1978, UNICEF gave Pelé its International Peace Award and worked with the organization as a longtime advocate of children's rights. He also was a FIFA ambassador against racism. In 1994, he served as a UNESCO Goodwill Ambassador, and in 1997 he received an honorary knighthood from Queen Elizabeth II for his works around the globe. He was also given the Children In Need award from UNESCO in 2012.
In 2018, he founded the Pelé Foundation, which is aimed at collaborating with other groups to assist children living in poverty.

"It has been my lifelong dream to start a foundation to help children of the world better their lives as people in my childhood helped me to better mine," Pelé said at the time. "My foundation reflects the life I've led both on and off the field and I am looking forward to working with esteemed leaders in philanthropy to help the children of our world."

Twice divorced, Pelé married Marcia Aoki in 2016, who survives him along with seven children Kely Cristina Nascimento-DeLuca, Jennifer Cholby Nasciemento, Edson Nasciemento; ​​twins Joshua and Celeste Nascimento; Sandra Machado; and Flavia Christina Kurtz from previous marriages and relationships.