Charlamagne and 'The Breakfast Club' Face Epic Backlash Over Jokes About Murdering Trans Women
Lil Duval made offensive remarks on the show just days after Janet Mock's appearance.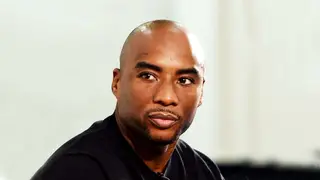 Transgender rights are once again at the forefront of our national conversation and activism after Donald Trump's misguided ban on transgender men and women serving in our military. The issue proved that there is more support for and understanding of the transgender community than ever before — but someone forgot to tell The Breakfast Club.
The radio show is under fire for promoting transphobia on two separate occasions this past week: first, when author and trans activist Janet Mock appeared on the show and was asked insulting questions about her anatomy by the hosts, and a few days later, when comedian Lil Duval stopped by and made "jokes" about murdering trans women.
The backlash began after Mock's appearance on the radio show, when hosts DJ Envy and Charlamagne began asking the author and activist questions about whether she could "get wet" during sex and if she has a clitoris. A visibly uncomfortable Mock asked them to refer to Google for those answers instead of asking her.
A few days later, the subject of being transgender came up again during the group's interview with Lil Duval. The comedian was asked for his reaction on Trump's ban of transgender troops, to which Duval replied, "I'm just doing my thing. Shout out to all the trannies out there," using what is often considered a slur for transgender people. Despite Mock's eloquent explanation of the slur just a few days prior, the co-hosts giggled.
Duval was then asked how he would react if he discovered a woman he had slept with was transgender. "This might sound messed up, but I don't care, she dying," he said.
"That's a hate crime, you can't do that," Charlamagne told him.
"I can't deal with that," Lil Duval responded. "No, you manipulated me to believe in this thing. My mind, I'm gay now. I can't live with that, bro. This would never happen if this never happened. So you don't have to worry about me killing nobody."
Duval's comments and the hosts' reaction to them and their intrusive questioning of Mock was too much for the trans community and its allies to bear, leading to protests and the Twitter hashtag #boycottbreakfastclub.

See what Janet Mock had to say during LGBT Pride, above.
Here's Janet Mock's interview on The Breakfast Club. Things start to get uncomfortable around the 20 minute mark:

And here's the interview with Lil Duval a few days later, where things get uncomfortable pretty much right away:

Following the interviews, Charlamagne faced protesters at PolitiCon, who told him trans people are "not a joke."

See how Twitter is reacting to the controversy: