TikTok: Vegan Fish Sticks, Vegan Crab Cakes, And Other Plant-Based Recipes That Will Have You Drooling!
Consider celebrating Earth Day every day with these mouthwatering meals from TikTok.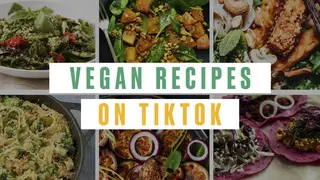 Although there are many alternatives to changing one's eating habits, vegan lifestyles top of the list on TikTok! Over the years, many people have switched to plant-based lifestyles to not only become healthier but also to help the environment. 
It helps that a vegan lifestyle offers a boatload of benefits, including lowering cholesterol, blood pressure, and risk for heart disease due to the decreased consumption of processed foods. Being vegan can also assist in achieving your summer body goals!
With summer weeks away, there's no better time than now to consider pivoting your diet—even if it's temporary. 
If you've been considering becoming vegan, but are concerned about missing the wonderful flavors that make you drool, we've got you covered. Look no further than these Black creators who are shaking things up with these scrumptious plant-based cuisines that will have you dashing to the dinner table.
Keep scrolling to see some of the best-looking vegan recipes we've seen on TikTok!
Vegan Crispy Fried Fish Sticks With Fries

Vegan Breakfast Sandwich On An Everything Bagel

Vegan New Orleans Style Po'Boy

Vegan Crepes With A Chocolate Drizzle

Chik'n Quesadillas And Salad

Vegan Crab Cake With Yummy Seafood Seasoning

Vegan Cream Cheese Stuffed French Toast

Vegan Lasagna With Soulful Seasoning

Cinnamon Sugar Roasted Chickpeas