Cardi B Quotes "BBHMM" After Blogger Tasha K Claims to Not Have $4 Million
The Bronx rapper offers a direct message after the YouTube star claims to be broke.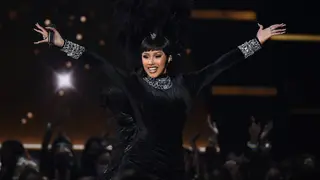 "We have business things in place that take care of things like this," Tasha said. "Now, of course, the appellate court and the Supreme Court is in process right now."
When it comes to appealing the verdict, Tasha is all about that smoke, saying, "Nah [I'm not trying to pay $4 million], that's what the appellate court [is] for. Who's tryna pay $4 million?! Who?!"
Once the clip made the rounds on social media, Cardi didn't waste any time responding on Twitter.
As you can see above, the Bardi Gang founder quoted Rihanna's "BBHMM" hit song from 2015 when it comes to paying what she owes.