'College Hill: Celebrity Edition': Joseline Establishes Her Role as the House Bully
As the series unwinds, we see there's always that one person always in some mess.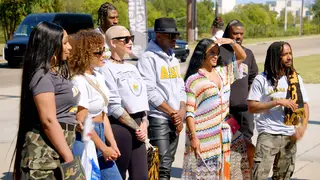 College Hill: Celebrity Edition is back for the second time! The premise is the same, eight celebrities coming together to earn a certificate in interdisciplinary studies, over a few weeks, at an HBCU. This year's school is Alabama State University in Montgomery, Alabama, home of the Hornets.
Ray J is back because he failed last season. He claims he wants to try again but let's be real, it's probably more for money than anything. He thinks he's the most intelligent person in the room, which hasn't changed. Anyway, the other motley crew members include Amber Rose, Iman Shumpert, the blueprint, Tiffany "New York" Pollard, Joseline Hernandez, internet star Kway Rogers, Parker McKenna Posey from My Wife and Kids, and O'Ryan (singer and Omarion's brother).
They're in a nice house off campus getting a taste of co-ed life, and things start on a good note until Joseline starts acting like a raging bully. The first major incident and test of what sparks may fly starts with Joseline's lack of empathy toward New York, who says she's grieving her dog who died recently. But hold that thought.
The first order of school events is underway. They buy school gear, go to a football game and learn history about the school's relation to the Civil Rights Movement. They then connect with their adviser, Dr. Petty, who gives them more history and their first assignment, learning the university hymn. Anyone who attended an HBCU (hi) can tell you that HBCUs take their university hymns seriously. However, Amber Rose gets exempted from learning the hymn because the hymn mentions god and she is an atheist, but she gets another assignment that we'll learn more about in later episodes.
Back at the house, we have the first significant blowup. Joseline reveals that she feels away that New York told her that her "dogter" died. Joseline thought "daughter" but argues that New York isn't mourning a human. Joseline confronts New York while she's in the room that she shares with Kway and it gets heated. One thing about New York is that she doesn't start drama, but you aren't going to be in her face talking crazy. And well, Joseline talks crazy, so that was a back and forth until Kway, who is witnessing this entire thing, suggests they talk later. Joseline pretends that she will let it go and asks what she can do to help New York. New York asks that Joseline just leave the room and Joseline takes that as a reason to escalate. New York starts yelling for Joseline to leave at the top of her lungs while Kway asks if they can talk later, and finally, Joseline makes her exist.
But now Joseline is upset. Somehow, her entering New York's room and getting the inevitable result becomes a reason to lock herself in the room she shares with Parker. Parker had been knocking on the door, trying to get in and Joseline was ignoring her. So, Parker went and told everyone else what was going on. None of the other cast felt the vibe, so Ray J calls a house meeting to discuss proper etiquette and establish some rules.
How do you all think this went? Not good! They try to have a calm, rational discussion with Joseline but Joseline only blows up. She calls Parker sneaky because she's asking why Parker didn't tell her she had an issue, as if Parker wasn't knocking on the door. Parker is now triggered, calls Joseline rude and walks away, and now everyone is just looking at Joseline, who claims they don't like her because "she keeps it real," when it's really because she's being a bully. Driving that point home, she told Parker that she has to find a new room to sleep in.
So, that's where we end the first episode, with Joseline at the center of the tension and setting the tone for a wild ride this season.