Did Venus Williams Reveal the Sex of Serena's Baby After Winning Her French Open Match?
Sure sounds like it.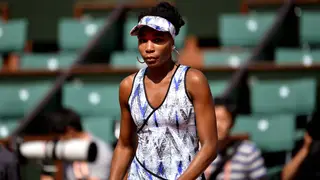 With Serena watching in the stands, hiding her growing baby bump with a white top under a jacket, Venus cruised to a 6-3, 6-1 win over Japan's Kurumi Nara in the second round of the French Open today.
"She's going to call me 'favorite aunt,'" Venus said, while laughing.
Venus seemingly gave away more hints about the baby's gender by saying, "We're always like ... baby V, baby Lyn, baby Isha, we all want the baby to be named after us," referring to herself and her other sisters' names.
So, Serena is having a girl!?
Let's see if Serena confirms via an interview herself or perhaps via a post on one of her social media accounts. 
BET Sports News — Get the latest news and information about African-Americans in sports, including weekly recaps, celebrity news and photos of your favorite Black athletes.