Halle Berry Looks Back on Her Academy Award Speech With Serious Sadness
The history-making actress comments on #OscarsSoWhite.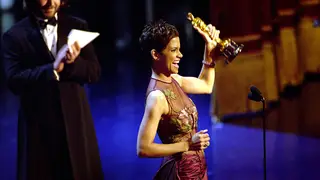 When Halle Berry made history as the first Black actor to win the Best Actress award at the 2002 Oscars, she thought she was taking a huge step for actors of color. Sadly, with #OscarsSoWhite trending year after year, she's realizing her previous high hopes may have been naive.
Speaking at the Makers Conference, Halle Berry said that she was "heartbroken" over the continued lack of inclusion and diversity in Hollywood films. She says of her tearful acceptance speech when she accepted her Oscar for Monster's Ball, "I believed that in that moment, that when I said [during my acceptance speech], 'The door tonight has been opened,' I believed that with every bone in my body that this was going to incite change because this door, this barrier, had been broken."
Now, she says, she's not so sure anymore. "To sit here almost 15 years later, and knowing that another woman of color has not walked through that door, is heartbreaking," she adds. "It's heartbreaking because I thought that moment was bigger than me. It's heartbreaking to start to think maybe it wasn't bigger than me. Maybe it wasn't. And I so desperately felt like it was."
Since Berry's win in 2002, only three Black women have been nominated for an Oscar for a leading role — Gabourey Sidibe for Precious, Viola Davis for The Help, and Quvenzhané Wallis for Beasts of the Southern Wild — and none of them won.
Like many, Berry recognizes that #OscarsSoWhite is part of a larger, systemic problem in Hollywood. "As filmmakers and as actors, we have a responsibility to tell the truth," Berry says. "And the films, I think, that are coming out of Hollywood aren't truthful.… They're not really depicting the importance and the involvement and the participation of people of color in our American culture."
Surprisingly, her fellow actor Donnie Wahlberg (who identifies as Republican) co-signed that very sentiment in a well-written commentary piece inspired by Donald Trump and Stacey Dash's call for the abolishment of BET:  "To discredit BET for reasons of race, is to discredit the black experience in this country," he wrote. "Because if a race of people, after being oppressed for 400 years, are not allowed to have one major TV network, out of about 500 channels, without some of us white people thinking it's a problem, then we really have not grown that much as a country."
Watch Berry talk about being Black in Hollywood in our exclusive interview with the Oscar winner, below:
BET.com is your No. 1 source for Black celebrity news, photos, exclusive videos and all the latest in the world of hip hop and R&B music.