'Black Panther: Wakanda Forever' Tops Film Chart On Opening Weekend, Earns $180 Million At The Domestic Box Office
The 'Black Panther' sequel smashes the record for a domestic November opening.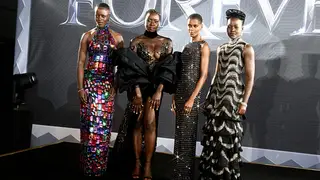 The superhero sequel, which opened in theaters nationwide on Nov. 11, earned $180 million in the domestic box office and $150 million overseas, replacing Dwayne "The Rock" Johnson's Black Adam as No. 1 on the film chart, Variety reports.
Wakanda Forever also smashed the record for a domestic November opening by surpassing The Hunger Games: Catching Fire that earned $158 million in 2013.
So far, Wakanda Forever had the second highest opening weekend in 2022 behind Marvel's Doctor Strange in the Multiverse of Madness, which earned $187.4 million during its opening weekend in May.
Comparisons to Black Panther, the landmark original film, are inevitable. Perhaps the most emotional element of the sequel is how it honors Chadwick Boseman. He played T'Challa in the original movie and passed away in 2020 at age 43 from an aggressive form of colon cancer.
According to The Hollywood Reporter, Wakanda Forever opened less than 11 percent behind the 2018 film that became a cultural icon. On its opening weekend, Black Panther earned $202 million in the domestic market and went on to earn more than $1.34 billion worldwide.
Still, Wakanda Forever ranks No. 13 on the list of domestic launches.
"It's an outstanding result. The first film represented such a major cultural milestone that its performance would have been challenging to follow even under normal circumstances," box office analyst Shawn Robbins said, according to The Hollywood Reporter.
"This performance from a sequel almost five years later speaks to the trust audiences have in [Director] Ryan Coogler, Marvel and the entire creative team to continue the story in a respectful way after Chadwick Boseman's tragic passing. It's an opportunity for everyone to say goodbye to him together as the franchise moves forward with his legacy at the heart of it," Robbins continued.