Warren G: The West Coast Doesn't Have Tunnel Vision
Warren G spoke to BET about the follow up to his classic album, his part in the upcoming N.W.A. biopic, and the chills he gets from Nate Dogg's voice.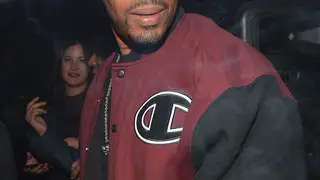 Warren G is walking West Coast hip hop history. Consider this: the Long Beach, California producer and one of the creators of the G-Funk sound witnessed N.W.A.'s hell-raising rise first hand as the stepbrother of rap deity-turned-headphone mogul Andre "Dr. Dre" Young. "Dre being my older brother, I always wanted to follow him around as a young kid," he recalls coming up with the game-changing music visionary. "So I looked up to him and my other brother Tyree, rest in peace. I wanted to be like them, so they took me under their wings."
And there's more. Warren was on hand to see the career-shifting departure of the scowling, lyrically gifted emcee Ice Cube and the explosive war-of-words that ensued between the future Hollywood heavyweight and Eazy E's self proclaimed World's Most Dangerous Group. He can recall the time he introduced a young, shy Snoop Doggy Dogg to Dre, officially shifting the balance of power between the East and West Coast hip hop contingents. And then there's Warren's own pivotal chapter-the moment he and smooth-singing crooner Nate Dogg became global rap superstars, extending the reach of Cali-rap following the blockbuster triple platinum plus success of their 1994 debut Regulate...G Funk Era.
These days, Warren is still keeping the studio hot. The 44-year-old is set to drop his star-heavy sequel EP Regulate… G Funk Era Pt. II, which features the vocals of his late partner Nate, who passed away in 2011. BET.com caught up with Warren G to discuss the new project set for release this week (August 6th); why Kendrick Lamar reminds him of his G-Funk era; how he gets the chills hearing Nate's vocals; his connection to the Straight Outta Compton film, and why the West Coast is emphatically back.
You have sold over ten million records, carried the West Coast flag alongside Snoop and your late partner Nate Dogg and worked with everyone from Slick Rick to Ron Isley. Do you believe that you still have something to prove with the release of Regulate… G Funk Era Pt. II?
I just look at music as my medicine. It heals me... just to be able to create and hear good music. To be able to record music and still make it sound good. This is what I have been doing almost all my life, so it's impossible to just stop. I always have to make music.
Did you have a particular concept or sound going into the making of your EP?
Not so much a concept... but I knew who I wanted to work with. I got E-40, Too $hort, Young Jeezy, Bun B... artists that I always wanted to collaborate with. When I reached out to them they were all like, "Sure...anything, man." Actually, the record that is my official single for the EP is called "Saturday," which features myself, $hort, 40, and Nate Dogg. It's a banger.
You mentioned Nate Dogg, who you share your biggest commercial success with, selling over three million copies of your 1994 debut Regulate...G Funk Era. How surreal is it to hear your late friend and collaborator singing on a new track in 2015?
Yeah...that's a trip, man. One of the things I'm trying to do is keep Nate's spirit and legacy alive. That's why I put him on the EP. People miss the Warren G/Nate Dogg collaborations and they miss Nate. I still have a bunch of unreleased songs of us together. Every time I play a song with Nate on it, even if I'm not in the studio, I feel something special. But then that's when I start to think, "D**n, my homeboy is gone. I can't believe it."
Yeah... I trips me out. But being able to listen to him lets me know that Nate Dogg is still here... his spirit is with me.
Being a serious hip hop head what did you think about Kendrick Lamar's To Pimp A Butterfly?
It's great. Being a vet, it's good to see the younger artists like Kendrick following in our footsteps. He's influenced by the music we were doing [in the early '90s]. I'm happy for all the artists doing it right now. And I'm happy to see so many of them still into G-funk. It makes me feel good because that's part of a genre that I helped create.
There is a scene in the upcoming N.W.A. biopic Straight Outta Compton where you introduce Snoop Dogg to Dr. Dre during a Death Row recording session. Did you realize you were making history?
I really didn't [laughs]. That entire time was just crazy, man... a lot more than the Straight Outta Compton movie. Remember, I was in the studio with Dre and N.W.A. when they were recording N-----4Life. I was there sitting around Andre just soaking it all up. As I got older he started teaching me how to produce.
A few years ago people were talking about the death of West Coast hip hop. But with the ascendance of Kendrick, elder statesmen like E-40 enjoying a resurgence, producer DJ Mustard still having an impact, Earl Sweatshirt rolling, and the likes of YG and Problem making noise, Cali is once again a major player. Where does the new Warren G fit into all this?
It just feels good to be a part of it all. We not trying to say that we hold the hip hop title or stuff like that. The West Coast is just doing good music. We ain't trying to control everything. We are doing our music for everybody whether you are down south or in Bangkok. The West Coast doesn't have tunnel vision. Everything I do is for Long Beach, Compton, Watts, Georgia, Detroit, Canada, Europe... everybody. Music is really happening for the West.
(Photo: Charley Gallay/Getty Images for Casper Sleep Inc)
BET.com is your #1 source for Black celebrity news, photos, exclusive videos and all the latest in the world of hip hop and R&B music.