Family of Elijah McClain Left Searching For Justice After Two Officers Acquitted
Officer Nathan Woodyard, who put McClain in a choke hold, was found not guilty on charges of homicide and manslaughter.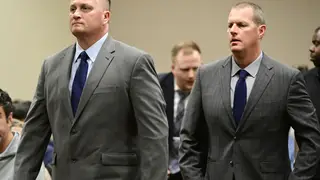 The family of Elijah McClain is still searching for answers after a second police officer charged in connection with his death was found not guilty on Tuesday (Nov, 6), the Associated Press reports.
Aurora officer Nathan Woodyard, who put McClain in a carotid chokehold was acquitted on charges of homicide and manslaughter by a 12-person jury in the Adams County Courthouse following a week-long trial in state district court.
Megan Downing, Woodyard's attorney said, "We believe it was the right verdict, not an easy one."
Colorado Attorney General Phil Weiser along with other members of the prosecution team
"At this moment, I'm thinking about Sheneen McClain, who has fought hard to keep her son's memory alive and to live on a blessing," Weiser said. "No mother should go through what she has gone through."
Just as she did during the trial in October, Sheneen McClain was in the front row with her left fist raised high as the verdict was read.
Although she did not speak to reporters after the trial, one of her supporters described the verdict as "pathetic" and is another example of how the justice system fails Black people.
MiDian Holmes, an activist and a friend of McClain's mother, expressed the collective disappointment in the jury's decision.
"Her son should be alive, and everybody claims to agree with that, but for some reason, we can't hold to account the people that took that away," Holmes said. "I think she understands and she recognizes that if she can feel, she can fight. This fight is not over for Sheneen McClain. She is going to turn this pain into promise and into progress."
Unlike the other defendants, Woodyard decided to take the stand. According to his testimony, Woodyard claimed that he placed McClain in the chokehold because he feared for his life after hearing him say, "I intend to take my power back" and when another officer said, "He just grabbed your gun, dude."
"I was expecting to get shot and I would never see my wife again," Woodyard added.
Prosecutors argued that McClain never attempted to grab an officer's weapon, as shown on the shaky body camera footage right before the cameras fell off during the confrontation. In the cross-examination, prosecutors implied that Woodyard "chose to escalate rather than de-escalate the encounter."
On August 24, 2019, police stopped McClain, who was unarmed and walking home from a convenience store in response to a 911 call that said he was Black and looked suspicious.
During the confrontation, McClain was forced McClain to the ground and placed in a carotid chokehold, a method of restraining potential suspects that has been outlawed in many states.
The officers ignored McClain saying, "I can't breathe."
When two paramedics arrived on scene, they injected McClain with ketamine, a powerful sedative. McClain went into cardiac arrest and three days later, died in the hospital.
In September, all three officers and two paramedics who were involved in the death of McClain faced criminal charges. 
After filing a lawsuit against the city in 2020, McClain's family settled with the city of Aurora for a reported $15 Million in November 2021
Randy Roedema was found guilty of criminally negligent homicide and assault and Jason Rosenblatt was acquitted of all charges in October.
Roedema's sentence hearing is scheduled for January 5.