The 'Sherri' Show: Host Wants Wendy Williams, Oprah, and Others on New Series
The 54-year-old announced that she wants to talk to some of Black Hollywood's superstars!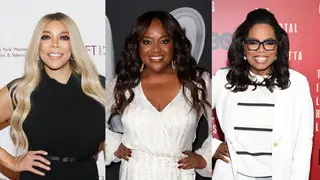 Sherri Shepherd is getting a new talk show and says she would love to have Wendy Williams on as a guest in the future.
Currently, Shepherd is the permanent fill-in guest host for The Wendy Williams Show announced on Feb. 22 during the "Hot Topics" segment that she would officially be hosting her upcoming daytime talk show Sherri the September.
In an interview with Deadline, the 54-year-old shared her wishlist of guests who she would want to chat with during the first season of the show which included Williams and a few other superstar celebrities.
"I am wondering what Oprah is doing? I want to know what Idris Elba is doing and if his wife could part with him for one hot minute," she said. "Come on, Regé-Jean Page. Hey, Method Man! I want him to come on. 'Michelle Obama, we're both from Chicago. Are you and your husband doing anything that week?'"
She also had a few kind words for Williams, who has been absent from her eponymous daytime series due to ongoing health reasons.
"I'm so thankful to Wendy for letting me fill in for her and letting me fill the gap to support her as all the other co-hosts have also done," Shepherd shared. "I'm thankful because if it wasn't for Wendy the eyes wouldn't have been on me. I'm so thankful to her. We're all praying for her."
BET previously reported that Williams broke her silence in an Instagram video in Feb. 2022 about her road to recovery while spending time in Florida to get her health back on track.