Seven Stars Who Got Their Start In Tyler Perry Films
Many actors received their first opportunity to star in major films thanks to projects written, produced, and directed by Perry.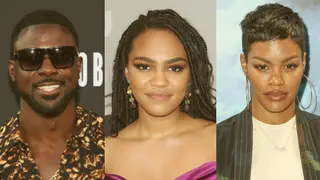 Tyler Perry is a force to be reckoned with in the world of entertainment. From writing plays on the Chitlin Circuit that catered to Black church audiences to creating hit films that rocked the box office, Perry's meteoric rise into one of the major players in Hollywood has been truly remarkable. To date, Perry's films have grossed ever $1 billion dollars across the globe and he has created several long-running television shows.
Always expanding his reach, Perry and BET announced their partnership, BET +, a joint venture between Viacom's BET Networks and Tyler Perry Studios, that will launch domestically on Thursday, Sept. 19. BET+ will now be the official home of Perry's filmography including the Madea series, sitcoms House of Payne and Meet the Browns, and a selection of his stage plays.
One of the key elements of the success of Tyler Perry is how he utilizes his influence to introduce new Black actors to the masses in his films. Many actors received their first opportunity to star in major films that were written, produced, and directed by Perry. Not only does Perry have a keen sense of being able to identify new talent, but he also gives artists who are well-established in their music careers, the chance to act in front of the camera. To highlight the actors who began their careers in Perry's movies, here's a list of Seven Stars Who Got Their Start In Tyler Perry Films.
Before she became a part of the African-American superhero family on the CW's Black Lighting, China McClain began her career as a child actor in Tyler Perry's Daddy's Little Girls. McClain played China James, Monty James's (Idris Elba) youngest daughter. She went on to star in Tyler Perry's House of Payne as Jazmine Payne. She became a TV star on the Disney Channel for playing Chyna Parks on A.N.T. Farm from 2011 to 2014. Besides her role as Jennifer Pierce in Black Lightning, McClain returned to her character (Jazmine Payne) as a recurring cast member in OWN's Tyler Perry's The Paynes. McClain would go on to achieve international fame for playing the villain, Uma, in Disney's hit television movies Descendants 2 and Descendants 3.

In the early 2000s, Jill Scott helped to usher in a new era of soul music with her 2000 platinum selling debut, Who Is Jill Scott? Words and Sounds Vol. 1. Her mix of live instrumentation, poetry, and vocal prowess catapulted her into superstardom. After several successful albums, Scott turned her sights to acting and landed her first major role in Tyler Perry's Why Did I Get Married? in 2007. Scott played Sheila, a housewife who is trying to hold on to her marriage to Mike (Richard T. Jones), who brings his girlfriend on a married couples trip. Since making her film debut,  Ms. Jill has appeared in Why Did I Get Married Two?, Baggage Claim and Get On Up as well as other films and TV roles. Ms. Jill is also one of the stars of First Wives Club airing exclusively on BET+ on September 19.

Lance Gross made his first appearance in a major film as Michael Brown in Tyler Perry's Meet The Browns, the 2008 film based on his stage play. Gross not only got his first starring role in one of Perry's films, but his first television role was in Tyler Perry's House of Payne, where he starred as Calvin Payne. He also co-starred in 2010's Our Family Wedding alongside Forest Whitaker, Carlos Mencia, America Ferrera, and Regina King. Gross played Secret Service Agent Marcus Finley in NBC's political drama Crisis and starred in Tyler Perry's Confessions of a Marriage Counselor, both in 2013.

Acclaimed singer/songwriter Mary J. Blige will ultimately go down as one of the greatest singers of all-time. In her illustrious career, the "Queen of Hip-Hop Soul" has sold over 80 million records, won nine Grammy Awards, four American Music Awards, 12 Billboard Music Awards, and the Lifetime Achievement Award at the BET Awards. After establishing herself as an icon in the music industry, it was Tyler Perry who gave Blige her first role in a major film in Tyler Perry's I Can Do Bad All By Myself  in 2009. From there, Mary J. landed roles in Rock Of Ages (2012) and Black Nativity (2013), and she received an Academy Award nomination for Best Supporting Actress in Mudbound in 2017. On top of all that, it has been announced that Mary J. is set to star in a spinoff of Power, 50 Cent's hit drama.

R&B singer Teyana Taylor burst on the scene as teenage sensation at the age of 15. Coming up in the music industry, Teyana wrote songs for the likes of Usher, Chris Brown, and Omarion. She even choreographed Beyoncé's music video for her hit "Ring The Alarm." Though she had a small part in Stomp The Yard 2: Homecoming, Teyana made her major film debut in Tyler Perry's Madea's Big Happy Family in 2011. While Teyana has released highly regarded albums VII and K.T.S.E., she's also keeping her love of acting alive appearing in Star (2017-2018) and The Breaks (2017), her own reality show, Teyana and Iman, and she was cast in Coming 2 America, which will premiere in theaters in 2020.

As Valkyrie, Tessa Thompson made history as the first LGBTQ superhero in the Marvel film franchise. Before Tessa joined the Marvel Cinematic Universe, she had some small roles in films like When A Stranger Calls and The Human Contract, but she made her first major on-screen appearance in For Colored Girls, written, directed, and produced by Tyler Perry. Reportedly, Thompson approached Perry personally to be cast in the film. She played Nyla Adrose ("Lady in Purple"). Thompson went on to star as Samantha White in the classic Dear White People. She has starred in Thor: Ragnarok, Creed, Creed II, Little Woods, Avengers: Endgame, and as Agent M in the Men In Black spinoff film, Men In Black: International.

For eight seasons, comedian Craig Robinson played Daryl Phibin, the loveable, musically inclined (Robinson was a former Music teacher in Chicago) foreman of the warehouse in the NBC comedy The Office. However, when Robinson transitioned into films, it was Tyler Perry who gave him his first role in Tyler Perry's Daddy's Little Girls. Robinson played Byron, a loud-mouthed, middle-aged rapper still trying to make it big.

Since Daddy's Little Girls, Robinson has starred in a long list of films including Pineapple Express (2008), Zack And Miri Make A Porno (2008), Hot Tub Time Machine (2010), Peeples (2013), This Is The End (2013) and Sausage Party (2016), and he's currently been playing Doug Judy (the "Pontiac Bandit") in Brooklyn Nine-Nine for the last six seasons.