NAACP Image Awards: 5 Times Issa Rae Taught Us To Boss Up
The 'Insecure' star is constantly repping the culture.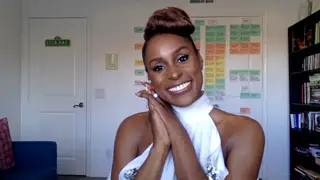 Since she first went viral on YouTube almost 10 years ago, Issa Rae has taken the entertainment world by storm. The writer/producer/filmmaker has been one of comedy's most fascinating and in-demand voices. Her take on race, gender, and relationships has gained her a devoted loyal following that's always anticipating her next brilliant move. Whether it's web series, sketch comedies, scripted dramas, or romantic comedies, Issa had proven to be a master of all trades and we are all here for it.
Issa Rae's work has received universal acclaim and she even nabbed the Outstanding Actress in a Comedy Series award at the 52nd NAACP Image Awards. In her acceptance speech, she said, "It means the world to me. It's the only validation that matters — Black people's validation — so I really appreciate the NAACP for honoring us. It means so much."
To put a spotlight on how a real star levels up, we at BET.com came up with 5 Times Issa Rae Taught Us To Boss Up.
She Created The 'Awkward Black Girl' Web Series

For those late to the party, Issa Rae didn't just appear out of nowhere. Before she became a fixture on the small and big screen, she created her hilarious web series, The Mis-Adventures of Awkward Black Girl. Launched on February 3, 2011, Awkward Black Girl follows the life and times of J at her place of work and the ups and downs of her love life where she often finds herself in some weird situations. On Awkward Black Girl, Rae showed us that Black Girl Magic comes in many varieties and the series was a sign of what she had in store.

She Became a Best-Selling Author

From the looks of things, there's nothing that Issa Rae can't do including writing a best-selling book. When The Misadventures of An Awkward Black Girl was released, it was a runaway success, making it to the New York Times Best Sellers list. The book details the difficulties of an introvert trying to shine in her professional life, how she handles friendships, her complicated love life, while all the time secretly rapping in her bathroom mirror like a straight-up gangster. The book is filled with hilarious lessons about self-love and self-acceptance, no matter how awkward we are.
 

She Gave Us 'Insecure'

If Issa Rae never did anything else, Insecure established her as a living legend in Black culture. When Insecure debuted on HBO, it was like Issa Rae saw us. A continuation of her Awkward Black Girl series, Insecure tracks all the wild experiences of a twenty-something Black woman who tries to maneuver through the struggles of everyday life. Since its release in 2016, the series has received wide-spread critical acclaim and an extremely loyal fan base. She has masterfully created characters and crafted stories that speak to us.

She Roots For Everybody Black

At Red Carpet events, usually, when a celebrity is being interviewed, the answers that come out are safe and boring. But Issa Rae pushed all that aside and changed the game forever. When she was being interviewed on the Red Carpet during the 2017 Emmy Awards, she was asked who she was rooting for. Without missing a beat, she simply replied, "I'm rooting for everybody Black." The stunned look on the reporter's face gave birth to an instant meme. And from that point on, "I'm rooting for everybody Black" became a mantra in the Black cultural lexicon. The phrase was put on clothing and even inspired Wale to make it into a Black anthem from his album Wow…. That's Crazy. We're rooting for you too, Issa!

She Runs a Media Empire

Issa Rae has starred in films such Little, The Photograph, and The Lovebirds but as a Boss Black woman, she understands that real power is to be in control of your content. She recently inked an eight-figure production deal for her company Hoorae Media, in partnership with Warner Media, to house all of her upcoming projects. According to sources, the deal is for five years and is valued at 40 million dollars. Not only will she be at the helm for the fifth and final season on Insecure but other projects including Tre Cnt and Seen & Heard, a docuseries for HBO, as well as Rap Sh*t for HBO Max, Perfect Strangers for Spyglass, and she will still serve as executive producer of A Black Lady Sketch Show. Issa is out here moving like a boss!