Barbados Scheduled To Remove Queen Elizabeth II As Head of State
The tiny Caribbean island will become an independent republic starting at midnight on Monday, November 30.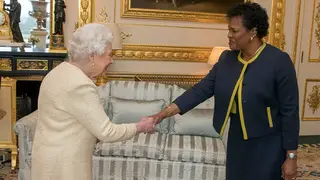 The time has come to leave the nest and it is confirmed that ad midnight on November 30, Barbados will officially remove Queen Elizabeth II as its head of state and install Governor General Sandra Mason as president. It comes 396 years after English ships first arrived on the shores of the small Eastern Caribbean nation. 
It's the first time in three decades that Britain has lost one of their many realms which will now be recognized as a republic and an opportunity for other Caribbean nations to follow. 
According to The BGIS, the official information and engagement hub for the Government of Barbados, home town girl and national ambassador, Rihanna, will be a part of the celebration at the inauguration event declaring Barbados as a republic. Prince Charles is also said to be on hand to observe the celebratory transition. 
"This is monumental from our point of view," Suleiman Bulbulia, a member of the committee tasked with analyzing the change, told Bloomberg News. "This is the next step in our journey -- cutting the umbilical cord that connects us to the U.K."
"The time has come to fully leave our colonial past behind," Governor General Mason said when the transition was announced last year, according to Bloomberg. "Barbadians want a Barbadian head of state."
Bulbulia says leaving the commonwealth won't affect economic conditions in Barbados, but it will be a very important morale boost to the 287,000 people who live on the island. Government agencies, such as The Royal Barbados Police Force, will need to have their names changed.
The last nation to leave the commonwealth realm was Mauritius in 1992. Additionally, the Bahamas, Jamaica, Grenadines and St. Vincent have all considered leaving the monarchy.